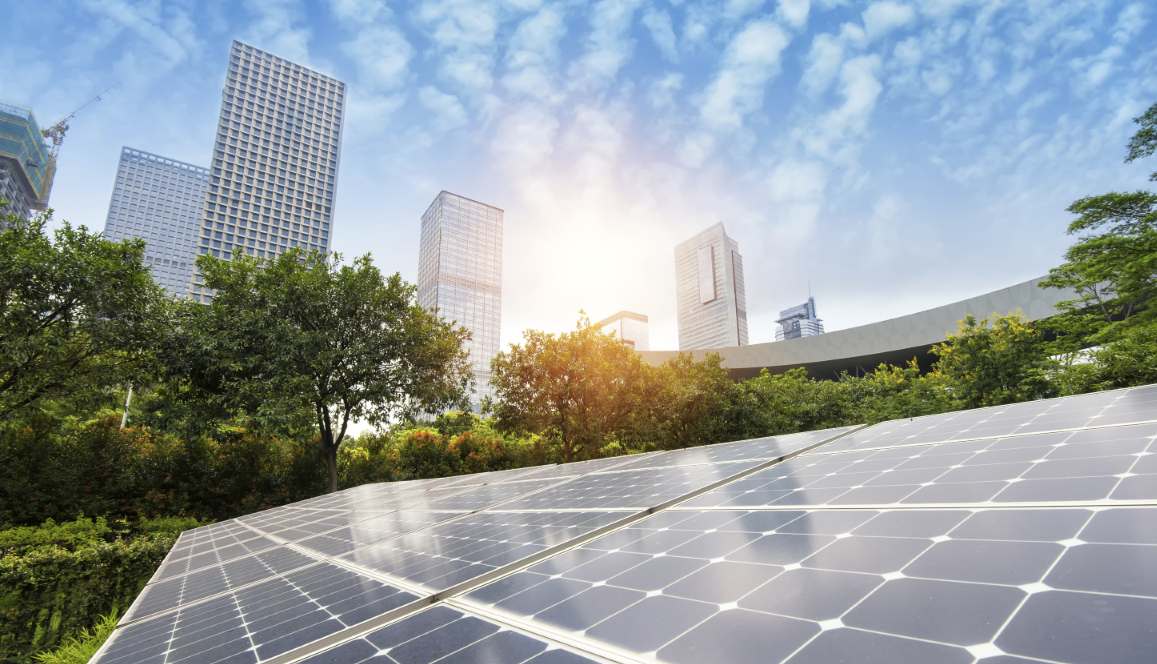 Introduction
Pedro Carvalho, consultant at Ecosecurities, provides Green Dealflow and his customers with an introductory notes on a particular unbundled EAC scheme of voluntary acceptance and international reach, the so-called International Renewable Energy Certificates, or I-REC.
Context
This year the International Energy Agency (IEA) made public at least two promising to support the energy transition toward a low-carbon society. In October the World Energy Outlook 2020[i] evidenced that solar power schemes now offer the cheapest electricity in history, having lower costs than coal and gas in most major countries. Also, earlier this month the IEA published its Renewables 2020[ii] report, indicating that "total installed wind and solar PV capacity is on course to surpass natural gas in 2023 and coal in 2024".
All this is good news for the energy transition, but despite the growing renewable energy deployment throughout the world, the question on how to develop efficient and effective policies fostering renewable energy implementation in a different context and particularities surrounding energy markets around the world. While the Paris Agreement called private actors to take climate action, most countries have National Determined Contributions under the Paris Agreement targeting increased renewable energy usage due to current carbon-intensive energy matrix, reliant on coal, oil and other fossil fuels.
According to IRENA[iii], in 2018 corporations were responsible to source 465TWh of renewable energy, equaling France's overall electricity demand and "representing approximately 3.5% of total electricity demand in the Commercial & Industrial sector, and 18.5% of total renewable electricity demand in the Commercial & Industrial sector". The same piece points out four models for corporate sourcing of renewable energy:
Unbundled energy attributes certificates (EACs);
Power Purchase Agreements (PPAs);
Renewable energy offerings from suppliers; and
Generation for self-consumption.
Beyond the national or regional schemes, this article focuses on the I-REC due to its extensive global presence in more than 30 markets (EU and the USA excluded), apparent integrity and robustness and relatively simplicity for asset owners to register its energy device, trace its electricity production and trade such attribute certificates with market players.
What is more, there is a growing interest from private sector actors on how to make robust renewable energy usage claims grounded on stringent systems and mechanisms to track its electricity consumption. As such, I-RECs enables asset owners in diverse locations of the world to monetize their renewable energy generation attributes, hence allowing for complementary sources of revenue.
What is I-REC?
I-RECs are designed to be a tracking system to verify and certify certain attributes of generated renewable energy by an energy plant. This provides support for tracking compliance with regulatory renewable energy targets and enables voluntary end-users to track, verifyand ground their environmental claims toward climate goals.
The system design allows all I-REC participants the ability to track attributes of renewable electricity production from its location of generation to its place of consumption. These attributes, defined as "descriptive or performance characteristics of a particular [electricity] generation resource"[i] are factual, auditable statements of an electricity generating facility and an electricity-generating event. Items such as the location of the electricity generator, the type of primary energy input, the date of commissioning, the installed capacity, the volume of electricity produced and when the electricity was produced, are all factual attributes that can be tracked with the I-REC attribute tracking system.[ii]
Common attributes described in an EAC, such as the I-REC include:[iii]
energy generation technology (e.g., solar PV, combined cycle gas turbine)
underlying energy source, if any (e.g., gas, coal)
production start and end dates
identification and location
plant's generation capacity (MW or GW)
plant's year of commissioning
date of installation start of operations
public policy support (e.g. feed-in-tariff, investment support)
Relevant to note that the I-REC is a contractual arrangement to identify and track the energy attribute of produced electricity, it does not encompass trade of physical electrons injected in the electricity grid. The figure below[i] depicts the basic framework of the I-REC scheme:
Involved Actors
There are three main actors involved in I-REC, that operates under the rationale of an energy generation plant rendering its energy attributes to be accounted for by a third-party for the issuance of tradable certificates pertaining the electricity produced that, by its turn, is acquired by companies/organizations aiming to trade or use the certificate to ground their renewable energy usage claim.
In brief, the I-REC Standard[ii] describes the actors as follows: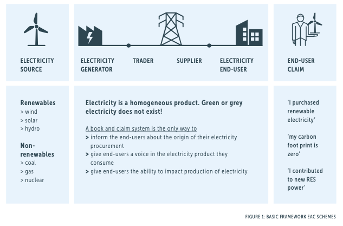 Registrant – the energy generator. Registration is needed before the I-REC issuance, but not necessary before energy generation. Once the request for device registration is made a review on relevant device information is conducted before registration – at this point, no certificate is issued
Registrants do not hold accounts on the I-REC registry, however, an individual or organisation can apply to be both a registrant and a participant if necessary – this is the case when the energy generator intends to issue the certificates for allocation to third-parties at a later stage.
Issuer – accredited the third party. Assigned to a region or country, maybe a government agency or independent entity ideally acting with the support of the governmental authorities. The issuer is the relevant actor in the scheme to secure traceability and high-standards of compliance with the I-REC Standard guidelines. Its nature is curious and changes according to jurisdiction, from private organizations to state-owned grid-operators, the figure of the issuer in the I-REC system is paramount.
The issuer controls the registration of generating facilities, oversees and verifies the reporting of generation data, and issues I-RECs based on reported generation. The issuer entity has a contractual arrangement with the I-REC Secretariat, which by its turn maintains the registry.
Participant. Virtually any individual or legal entity wishing to hold or trade the I-REC certificates. The registration with the I-REC registry is mandatory, as the platform allows the assignment of the certificate to the relevant actor. End-users wishing to purchase and redeem I-REC certificates can be participants and have their accounts or they can be clients of an existing market-player who will hold accounts on their behalf.
Rationale
As mentioned, I-RECs have contractual nature, being the tracking system operationalized by a digital statement – the I-REC certificate, which is grounded on the generation of 1 MWh of electricity. Once an end-user owns an I-REC it may claim the attributes described in that certificate pertaining a particular generating facility and electricity-generating event.
I-REC Standard certificates fall into a category of 'attribute tracking certificates', as is described in the GHG Protocol Scope 2 Guidance Document, "a category of contractual instruments used in the energy sector to convey information about energy generation to other entities involved in the sale, distribution, consumption, or regulation of electricity."
While the regulations and procedures for tracking the attributes of generated electricity might differ between EAC schemes, the driving rationale to energy attribute tracking is a commonplace:
The energy producer generates a unit of energy – generally, this is 1 MWh
For each eligible MWh of generated electricity, the issuer verify and certify its attributes for the I-REC issuance
The I-RECs then can be traded among market participants through the registry to ground the claim of renewable energy usage of an end-user.
The end-user or their representative "retires" the I-REC by cancelling it so that it cannot be used again. Without cancellation, there is a risk that the associated claims related to attribute ownership can be claimed twice (known as double counting).
After cancelling the I-REC, the end-user can claim to have consumed the attributes of the unit of energy that were specified in the I-REC – this is to be said, the certificates may be used to ground renewable energy usage claims by end-users.
Beyond the renewable electricity generation traceability and I-REC system itself, relevant to note that the ultimate purpose of an EAC policy instrument is to have all energy generation, renewable and non-renewable, booked and all energy consumption claimed through the use of EACs. This is because, such instrument is designed to track energy attributes – whatever it may be, renewables or non-renewables – this builds up and contributes to providing full transparency over who claims what energy attributes inside a particular electricity grid.
The systems where all energy is traceable and accounted for are called "full disclosure" schemes and are currently present only in Austria, Switzerland, and the Netherlands. Those are challenging to implement voluntarily since end-users are unlikely to want to show that their electricity was generated by polluting energy sources. As such, full disclosure systems could be more effective if we're to be implemented under a regulated market, with a centra authoritative power.[i]
I-REC and National Policies
Overall EAC schemes may be designed under many different policy landscapes, from quasi-compliance markets such as the US-RECs, or with regulated structure but voluntary adherence, such as the Guarantee of Origin in Europe, local standards such as in Japan or Australia, to voluntary standards with global reach, such as I-REC.
Although a scheme of voluntary acceptance, I-REC build from existing domestic policy elements to guarantee the tracking system integrity, such was the case of I-REC implementation in Singapore and Thailand where State-owned grid operators were appointed as the issuer in the country, hence enabling higher degrees of accountability and comfort for market players as to the traceable energy attributes once that the issuer is the responsible actor for assessing the eligibility of an energy plant, certifying it, and authorizing the I-REC issuance in the registry.
Deeper integration with domestic policies is also possible, such as the case of Israel and the United Arab Emirates that officially recognized the I-REC Standard as a capable EAC scheme in the market, opening room for state-based targets relying on I-REC standards.
In the other hand, there are markets where I-REC coexists with other local EAC schemes, such as the Green Electricity Certificate in China, the Clean Energy Certificates in Mexico or the "T-REC" in Taiwan. In these cases, it is relevant to assess the existing policies and the interaction with I-REC as to prevent double-counting or double-issuance of any energy attribute. This would happen in cases where the same MWh is certified for trade under the I-REC and other local schemes, this undermines the system integrity as it hinders the traceability capacity of that specific attribute – the very purpose of an EAC scheme.
Where domestic policies from national governments regulate energy attributes from renewable energy sources, a throughout analysis is necessary to assess conditions for coexistence or even overall compatibility of existing EAC standards. The European Union is an example where the existing EAC scheme, the Guarantees of Origin, does not permit the coexistence with I-REC due to the overlapping characteristics of both systems.
I-REC Expansion
As of November 2020, I-REC implemented in at least 34 jurisdictions, with a steady growth of I-REC issuance and retirement, indicating a growing reliance on the scheme to ground renewable energy claims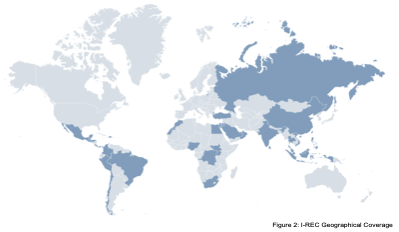 What is more, the 2020 statistics report brings some interesting numbers on the scheme expansion and device profile despite the COVID-19 crisis, suggesting a broader acceptance and adherence from market players towards I-REC based renewable energy claims.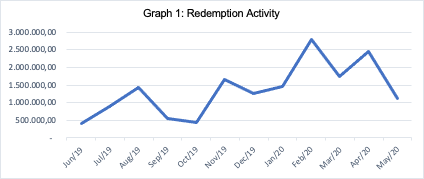 The reported period (June 2019 to May 2020) shows an approximate 81% increase in the redemption of I-RECs, confirming the trend pointed out before on growing I-REC prominence in international markets as the EAC scheme of choice.
It is also interesting to note that despite the COVID-19 crises and related economic downturns, the transactions volume has been also growing, amounting at over 20 million transacted I-RECs in the reported period.
In this regard, out of the 27 GW of installed capacity of registered devices, wind and hydro renewable sources are predominant, as depicted below: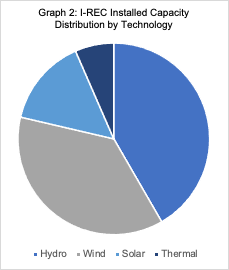 Breaking down the country market participation by installed capacity and reported transactions in the monitored period it is interesting to note that although Spain has significantly registered installed capacity under I-REC, no transactions were reported to the monitored period, mostly due to the Guarantee of Origin EAC scheme that is prominent in Europe.
| | | |
| --- | --- | --- |
| Country | Installed Capacity (MW) | Trasacted Volume (Jun 2019 – May 2020) |
| China | 6'852.12 | 9'493'778.00 |
| Brazil | 5'350.61 | 2'918'491.00 |
| Colombia | 2'064.00 | 1'148'316.00 |
| India | 1'498.51 | 1'075'842.00 |
| Chile | 1'931.25 | 841'594.00 |
| Spain | 1'760.14 | 0.00 |
Tab 1
The contrary could be said for the Colombian case, where although the total registered installed capacity is not among the 5 top players in the I-REC market, it achieved the 3rd place in the number of transactions.
Demand Drivers
Being a voluntary scheme, the factors driving the I-REC demand are grounded mainly on voluntary pledges made by organizations towards renewable energy utilization accounted for in Scope 2 emissions as provided by the GHG Protocol pertaining the emissions from purchased or acquired electricity, steam, heat, and cooling.
There are initiatives guiding organizations on how to inform Scope 2 activities, the most prominent ones are the CDP for climate disclosure, the RE100 for renewable energy usage and the Science-Based Targets Initiative to guide robust corporate climate targets based on science and aligned with or more ambitious than the Paris Agreement.
The RE 100, for instance, is a global initiative bringing together over 240 private sector organizations committed to 100% renewable electricity. Among the alternatives enabling organizations to claim renewable energy one could mention self-generated electricity with onsite power plants, onsite or off-site Power Purchase Agreements and, to what is the focus of this piece, the unbundled energy attribute certificates – such as the I-REC scheme. Hence, by acquiring an I-REC the end-user may claim renewable energy grounded on the robust tracking system in place in the jurisdiction where the I-REC was sourced, guaranteeing that certain amount of renewable energy was produced.
There are currently over 8,400 companies reporting to CDP, which includes Scope 2 emissions related to direct energy consumption. Altogether, RE100 commitments equal 228 TWh in 2018, which would be the equivalent to the 21st largest electricity market in the world, if the organizations would be a single country, with the biggest consumption than South Africa for instance. Only in 2018, I-REC like instruments were responsible for grounding 98.4TWh (43% of the total) renewable energy usage claims, evidencing the potential for this market.[i]
Best Procurement Practices
Such initiatives driving demand of I-RECs provide for technical guidelines by CDP[i] and RE100[ii] on sourcing best-practices and backed by RECS International[iii], a sectorial entity gathering discussions on EAC schemes, those include:
Geographic (market boundaries)
Electricity users should purchase energy attribute certificates from generation sites located within the same legal/energy market jurisdiction.
Geographic (physical connections)
The lack of a physical connection should not prevent the purchasing of renewable energy certificates from within the same legal/energy market area.
End-users and market players should consume electricity as close to the time of consumption as possible.
Market type (the role of regulatory surplus)
Contributing to regulatory surplus in a compliance market will increase the impact of renewable electricity purchases. But regulatory surplus is not relevant in all systems
Different means of buying renewable electricity
All contracts for power and attribute certificates rely on the same markets, rules and systems and, therefore, no contractual form is inherently more reliable than any other.
Any given EAC should contain all the social, environmental and energy attributes related to a specific unit of electricity production.
Recognized attribute tracking systems
Stakeholders should seek to use recognised standards for attribute tracking and support national authorities to develop robust local systems, which adhere to international standards, where they are not already in place.
Third-party verification helps ensure that a system is being operated correctly and that consumer's claims about the power they are using are reliable.
Final Remarks and Way Forward
It was not the intention of this introductory note to exhaust the subject, but merely to describe key elements on the I-REC system, point out current I-REC market maturity, growing trends and indicate alternatives for asset owners to monetize the electricity attribute of the renewable energy generation that has ever-growing demand from the private sector.
To finish this piece with a clear example of I-REC impact, one could mention the first renewable energy device located in Egypt that registers to have its electricity tracked to issue I-RECs. Local and multinational corporations with operations in the country would be able to start sourcing I-RECs from that plant in compliance with procurement best practices. This would provide the energy plant additional revenue at the same it supports climate action and contribute to corporate renewable energy targets, voluntary or not.
About the author: Pedro Carvalho is a Policy Consultant at EcoSecurities, a global leading firm on environmental markets, that helps project developers to monetize environmental assets arising out of carbon projects or renewable energy plants
Green  Dealflow – is a matchmaker for professional investors and asset owners in the solar and wind industry. You can  create  a free account and search for assets to invest in, or ask us about off-market projects, find investors for your projects with discretion (off-market), or PPA Off-takers can look for business partners on a "no cure – no  pay" basis. Further to this, Green  Dealflow  delivers news, blog posts and business intelligence, e.g.  through a transaction database and monthly reports.
---
[1] International Energy Agency. World Energy Outlook 2020. 2020.
[1] International Energy Agency. Renewables 2020. 2020.
[1] International Renewable Energy Agency. Corporate Sourcing of Renewables: Market and Industry Trends. 2018
[1] World Resources Institute, GHG Protocol Scope 2 Guidance. 2015. https://www.ghgprotocol.org/scope_2_guidance.
[1] The International REC Standard. I-REC Guide – How I-REC Works. 2015
[1] The International REC Standard. Understanding EAC Schemes and Roadmaps for Their Development. 2020
[1] Idem.
[1] The International REC Standard. I-REC Guide – How I-REC Works. 2015
[1] RECS International. What full disclosure means and why it is important. 2020
[i] CDP. CDP Technical Note: Accounting of Scope 2 emissions. CDP Climate Change Questionnaire 2020.
[ii] CDP. The Climate Group. RE100. RE100 Technical Criteria – Technical Note on Renewable Electricity Options. 2018
[iii] RECS International. Maximizing the reliability and impact of buying renewables: guidance for market participants. 2020
[i] CDP. The Climate Group. RE100. RE100 2019 Annual Report. 2019
[i] RECS International. What full disclosure means and why it is important. 2020
[ii] The International REC Standard. I-REC Guide – How I-REC Works. 2015
[i] World Resources Institute, GHG Protocol Scope 2 Guidance. 2015. https://www.ghgprotocol.org/scope_2_guidance.
[ii] The International REC Standard. I-REC Guide – How I-REC Works. 2015
[iii] The International REC Standard. Understanding EAC Schemes and Roadmaps for Their Development. 2020