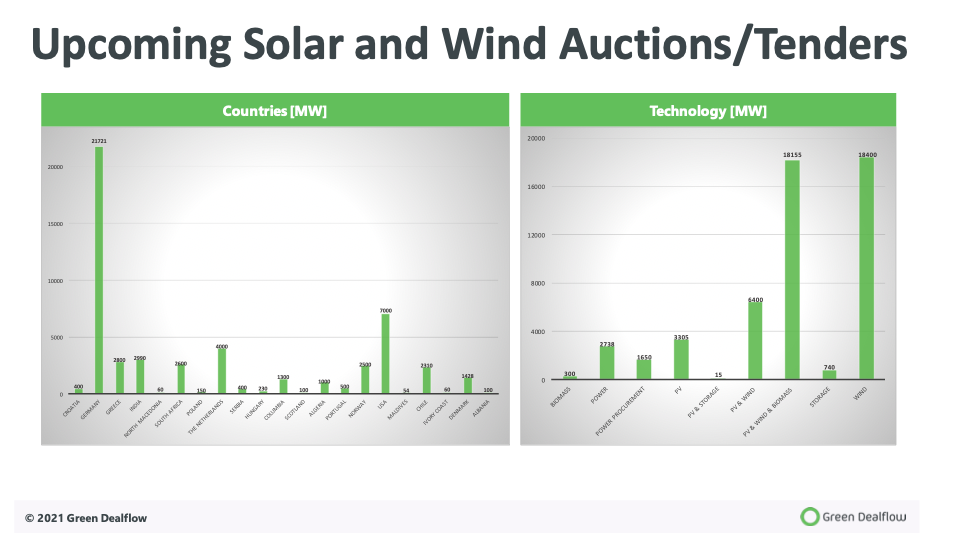 Government support for renewable energy projects (especially solar and wind) in the form of subsidies and continuous development and improvement of the regulatory framework is essential to meet the climate goals of 2030 and 2050. While in some countries, the private PPA and spot market mechanism has become the new normal, many others still rely on government initiatives in form of subsidies and other support schemes.  
At Green Dealflow, we aim to keep our audience updated on the upcoming tenders and auctions for solar and wind projects around the globe. We collect the officially announced schemes and deliver the updated version every month to our audience.
In August, new auctions will take place in South Africa, Chile, and India, followed by the Maldives.
South Africa comes first with 1 GW of solar and 1.6 GW of wind to be auctioned under the fifth round of South Africa's renewable energy independent power producer procurement program (REIPPPP). Next year the South African program will celebrate its 10th year of activities with the most significant auctioned capacity seen in the country so far. The IPPPP generated up until now 6422 MW of electric procured capacity and 4949 MW already operational. More than 209.7 billion were attracted for energy infrastructure in all bid windows, showing a great cognition of global trends towards solar and wind. The last date for compulsory bid registration is the 26th of July: you can find more information here. 
Auctions in September will see Germany as the top performer, auctioning 2.5 GW of wind projects, 616MW of open access Solar, and 150 MW of rooftop solar. In line with the last two auctions in 2021, the total onshore wind farms capacity counts 1.5 GW, while the offshore capacity of 958 MW will be auctioned first time in 2021. The same can be said with regard to solar projects. You can read more about Germany here. 
October will see Colombia and India auctioning 1.3 GW and 550 MW, respectively, followed by Denmark, whose intention is to auction 428 MW. Moving forward through the first auctions in 2019, the new Columbia projects selected will be granted a 15-year PPA and will be connected to the grid in December 2022. According to IRENA, thanks to Colombia´s rich wind and solar resources, auctions offer the potential to engage communities, contribute to subnational development, foster the development of local industries, and create jobs.
Lastly, for many eagerly waiting investors, the wait is finally over as Ireland has set the opening date for the bids for the RESS 2 auction as the 28th of March 2022. Again, solar will be competing against the onshore wind, and there will be a single technology cap in the auction. As seen in the RESS 1 auctions where 800MW was allocated to solar and 479 MW to wind with an average price of 7.2 cents per kWh, the trend is expected to continue in RESS 2 auctions.
You can download the full dataset about wind and solar auctions/tenders here.
Green  Dealflow – is a matchmaker for professional investors and asset owners in the solar and wind industry. You can  create  a free account and search for assets to invest in, or ask us about off-market projects, find investors for your projects with discretion (off-market), or PPA Off-takers can look for business partners on a "no cure – no pay" basis. Further to this, Green  Dealflow  delivers news, blog posts and business intelligence, e.g. through a transaction database and monthly reports.