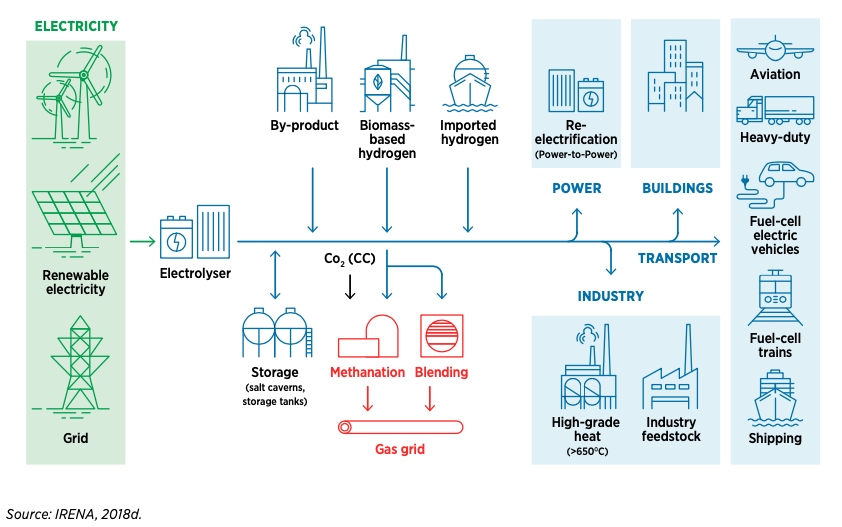 So, what is precisely Power-to-X and how it was picked up mainstream renewable energy community and media? This brief article explains how it started and what it is, and its applications in practice and progress on the frontier so far.
Power-to-X (PtX) has been in the spotlight in the energy community ever since the Danish Energy Agency announced the plans to develop an energy island in the Danish territorial waters of the North Sea with the possibility of connecting new technologies such Power-to-X.
The importance of integrating clean sources and Power-to-X will rapidly increase in the following years due to the need to reduce global emissions, even those not coming from the power sector.
In fact, according to the World Resource Institute, the CO2 emissions originated by the transport sectors (16.2%) and buildings (17.5%) account for more than one-third of the global carbon emissions, meaning that ambitious decarbonization targets must also address non-power-related emissions. Therefore, Power-to-X will have strong chances to become one of the key players of the energy transition.
IRENA is actively researching and advocating Power-to-X. Out of all the resources available from IRENA we have summarised the concept of Power-to-X below.
The concept behind Power-to-X, where X stands for hydrogen, ammonia, gas, heat, power, chemicals, or fuel, relies on utilizing flexible PEM (Proton Exchange Membrane) electrolysers to generate hydrogen, supplying electric appliances (like heat pumps), and enabling sector coupling applications. 
The key is converting excess renewable electricity into hydrogen first and then e-Methane or other fuels by combining it with atmospheric CO2 or nitrogen to produce carbon-neutral fuels to be used in transport, aviation, agriculture, and heating and cooling applications.
In addition, it allows increasing the penetration level of renewable technologies connected to the grid due to the high flexibility of Proton Exchange Membranes (PEM), which can react to frequency deviations of the grid in less than one second and providing ancillary services with price. The value of storage is also given by its potential to decouple generation from the supply.
There are still many challenges to be addressed: repowering of gas infrastructures to enable a higher share of hydrogen to be transported within the existing network required changes in the regulatory framework, support schemes, and subsidies.
In the meantime, some countries already started to install facilities:
Many others are planned or being developed, like H2Future (Austria) with 6 MW electrolyser to be connected to the Voestalpine Linz steel production plant, Grhyd (France), where ENGIE is intended to explore synergies between hydrogen and natural gas by blending them together, and the Power-to-heat expansion in Denmark.
Even if the 2030 European target upon carbon emissions is getting closer, new approaches are needed to reach a decarbonized society: Power-to-X is one of these, but many more must be explored and deployed in the next years.
Green  Dealflow – is a matchmaker for professional investors and asset owners in the solar and wind industry. You can  create  a free account and search for assets to invest in, or ask us about off-market projects, find investors for your projects with discretion (off-market), or PPA Off-takers can look for business partners on a "no cure – no pay" basis. Further to this, Green  Dealflow  delivers news, blog posts and business intelligence, e.g. through a transaction database and monthly reports.