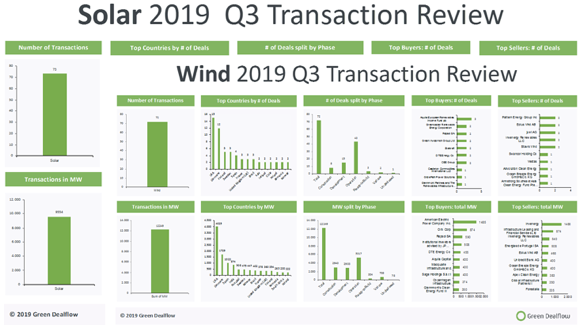 This week, Green Dealflow publishes its quarterly transaction review of the solar and wind industries for 2019 Q3 (access it here). The report is built from Green Dealflow's transaction database that tracks equity transactions of solar and wind projects around the globe.   
In the solar industry, the report records 73 transactions amounting to over 9.5 gigawatts. Regarding deal flow by country, the USA tops the list in the number of deals three times larger than Italy, which holds the second position. On the third position in the number of deals appears Spain, at the same time holding the biggest amount in MW transacted, and only follows from some distance by Brazil and the USA. This major role of Spain is due to the acquisition by the Brookfield Renewable Partners of the 50% stake in X-Elio. This acquisition reaches a remarkable size in MW transacted, considering the Spanish developer counts with more than 6GW in a combined portfolio with a developing pipeline and assets under construction and in operation.

In the wind industry, the number of deals rises to 71 and scales up to a total sum of 10.8GW. Among all the registered countries, the USA outweighs all the rest in terms of both the number of deals and the amount of MW. In the second place, Germany follows closely in the number of transactions but with a difference of 800 MW regarding the transacted capacity. The leadership of the United States is supported by its numerous transactions, most of them with a considerable size, but without any wind-only mega project. In the case of Germany, one of the most relevant transactions that contribute to this second position is the acquisition of the Bard Offshore 1 wind farm owner – Ocean Breeze Energy – by Australia's Macquarie.
 Green  Dealflow – is a matchmaker for professional investors and asset owners in the solar and wind industry. You can  create  a free account and search for assets to invest in, or ask us about off-market projects, find investors for your projects with discretion (off-market), or PPA Off-takers can look for business partners on a "no cure – no  pay" basis. Further to this, Green  Dealflow  delivers news, blog posts and business intelligence, e.g.  through a transaction database and monthly reports.