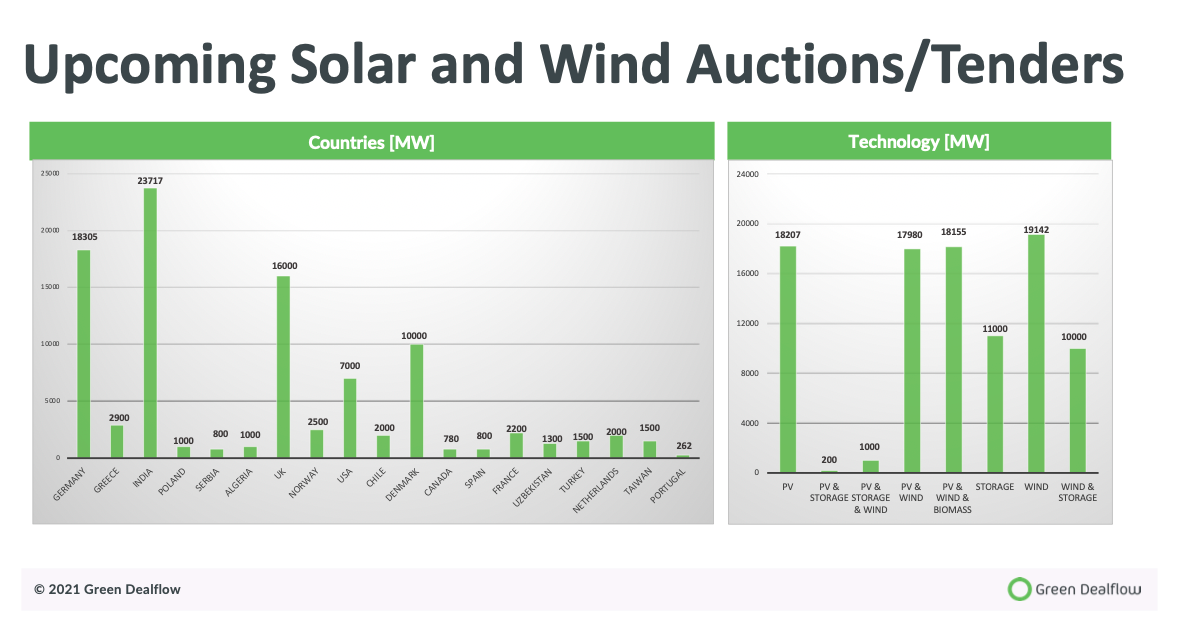 Green Dealflow we aim to provide important information regarding investments opportunities and business strategies to contribute to a more sustainable society. Every month we collect the officially announced schemes and deliver the updated version of solar and wind tenders and auctions to our audience. You can read more on our blog here.
During the first months of 2022 new auctions will take place in Greece, Serbia, Uzbekistan, followed by Portugal. You can download the full dataset here.
The Government of Serbia is preparing to hold a renewable energy auction after a roundtable and a workshop, which is expected to be ready by early next year, according to the State Secretary of the Ministry of Mining and Energy. The auction will be assessed electronically, with the new system to be completed early next year. The government has announced 400 MW of wind power. Furthermore, green energy plants up to 500 kW in capacity will be exonerated from the construction permit.
Upcoming tenders will be held from the Government of Uzbekistan, starting with 400MW of solar capacity. Three new international tenders will be announced by the end of 2021 according to Energy Minister Alisher Sultanov: one regarding the construction of over 400 km of power lines, the other two in regards to 400MW of solar. Additional tenders will be announced in 2022. German companies have been directly invited to participate in the upcoming tenders from the Energy Minister, aiming to straighten the cooperation in the energy sector. Following the success of previous tenders, the country aspires to increase the installation of solar PV to 7GW by 2030.
Recently the Minister of Environmental and Climate Action of Portugal has launched a solar auction for 262MW of floating PV to be installed at seven dams across the country. In more detail, the biggest project of 100MW will be hosted at the Alqueva dam in the southern Algarve region, followed by 50MW at the Castelo de Bode dam. The auction will take place on April 4, 2022, allowing prospective bidders to submit proposals no later than March 2, 2022. "We are certain that this auction will attract enormous interest," said Portugal's energy secretary. The projects are expected to be operational by 2023.
Furthermore, the next tender for large-scale solar plants in Germany will take place on March 1, 2022.
Follow us for more news!
Green  Dealflow – is a matchmaker for professional investors and asset owners in the solar and wind industry. You can  create  a free account and search for assets to invest in, or ask us about off-market projects, find investors for your projects with discretion (off-market), or PPA Off-takers can look for business partners on a "no cure – no pay" basis. Further to this, Green  Dealflow  delivers news, blog posts and business intelligence, e.g. through a transaction database and monthly reports.