How you should present your renewable energy project depends on several factors:
Is it the initial presentation, or is it one for a later stage of the negotiation?
What type of investor are you presenting to?
What is the development stage of your project?
What is the size of your project?
Essentially, the presentation should take into consideration at which stage of the process it should be used.
In addition to choosing the right timing, ensure that you understand the investor's investment criteria.
Below we have described the 3 main types of documents which investors use to analyse renewable energy projects.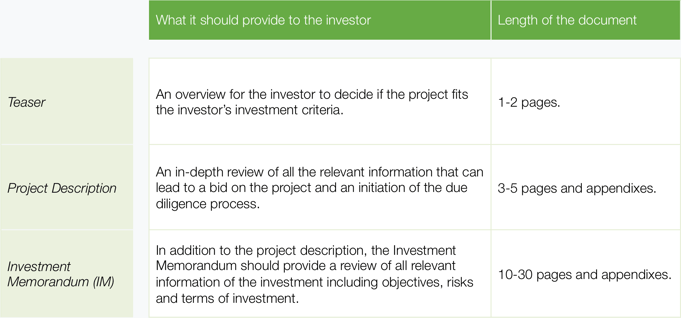 This post is written by former CEO of Green Dealflow, Mr. Kenn Righolt.
More knowledge on the subject is available here
If you would like to know more about selling renewable energy projects, we recommend you also read this post; "Matching a Renewable Energy Project with the Ideal Investor".
If you want to learn what details to include in a good Wind & Solar project Teaser in order to meet the needs of the investors we recommend you read the following posts;
Get the crucial elements right in a SOLAR project Teaser.
Get the crucial elements right in a WIND project Teaser.
Click here to download the new templates for FREE.
Green Dealflow is a global matchmaker in renewable energy: we connect asset owners with trustworthy investors in wind and solar industry, all around the world.  Create a free account today and stay updated on new projects and the latest renewable energy news and trends!