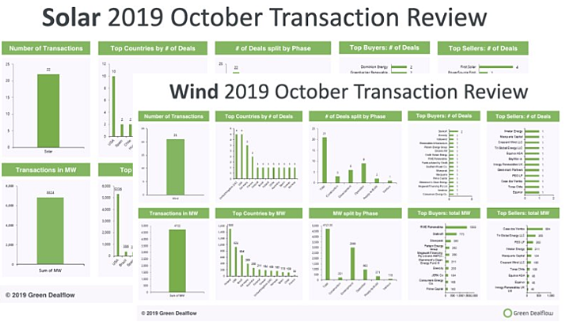 This week, Green Dealflow published its monthly transaction activity report of the solar and wind industries for October (access it here). The report is built from Green Dealflow's transaction database that tracks equity transactions of solar and wind projects around the globe. The month of October has kept the pace of September regarding the number of transactions, but the total capacity transacted in solar and wind transactions was almost three times as high as last month. In October, we captured 41 deals overall mounting to 11.5GW (gigawatts).
In the solar industry, the report records a total of 22 transactions amounting to more than 6.8GW in gross capacity transacted. As compared to a very slow September with 17 transactions amounting to approx. 1.2GW, October speeded it up regarding both the number of transactions, and MW transacted in solar energy deal flow.
Equally to the last months, the US was in the leading place regarding total MW transacted with 10 transactions amounting more than 5.3GW. The leading position of the US was mainly due to the Spanish company Acciona purchasing 3GW of solar projects and 1GW of solar + storage from developer Tenaska. The deal spanned 20 projects, 7 states and 2 power markets. Brazil followed the US taking the second place mainly due to Nebras Power completing the acquisition of majority stake in 4 major Brazilian solar projects.
In the wind industry, the report records a total of 21 transactions amounting to 4.7GW in gross capacity transacted. As compared to a more modest month of September with 3.5 GW in 25 transactions, October represents a change in activity and becomes the most active month of this year, so far.
This month, Poland outpaced the US regarding total MW transacted with one transaction of 1.5GW in which RWE Renewables became the new owner of 4 offshore wind projects in the Baltic Sea. The US was in second place mainly due to Tri Global Energy reaching an agreement to sell the 360MW Canyon Wind project to Silverpeak, an alternative investment firm focused on real estate, energy and credit.
Green  Dealflow – is a matchmaker for professional investors and asset owners in the solar and wind industry. You can  create  a free account and search for assets to invest in or ask us about off-market projects, find investors for your projects with discretion (off-market), or PPA Off-takers can look for business partners on a "no cure – no  pay" basis. Further to this,  Green  Dealflow  delivers news, blog posts and business intelligence, e.g.  through a transaction database  and monthly reports.
Visit us at www.greendealflow.com.