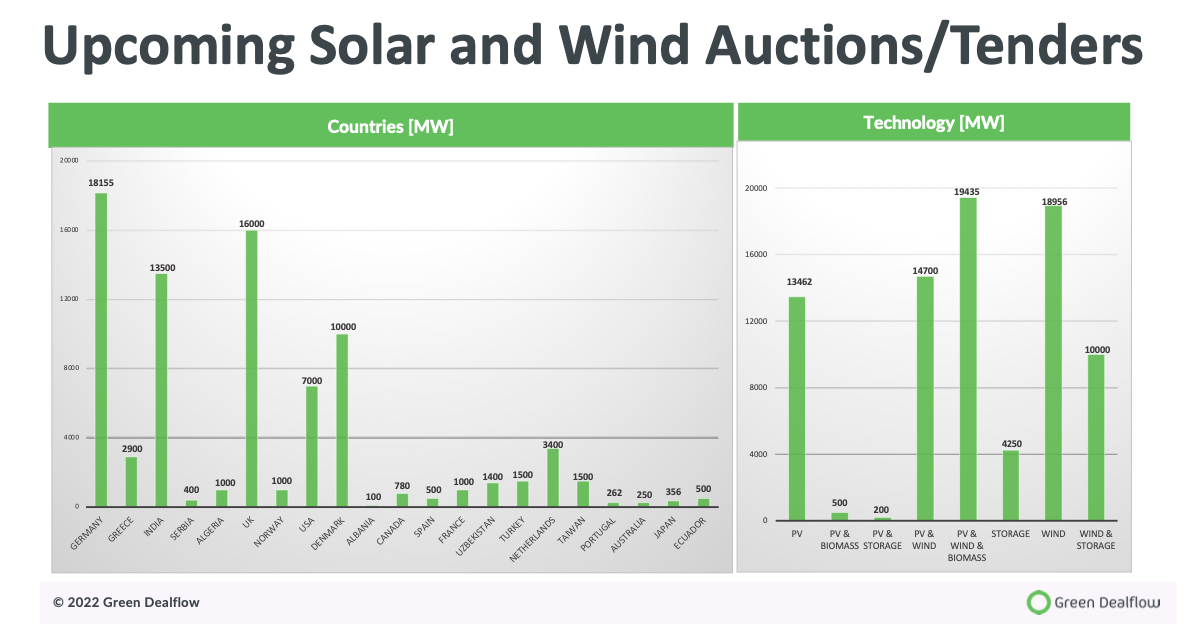 At Green Dealflow we aim to provide important information regarding investments opportunities and business strategies to contribute to a more sustainable society. Every month we collect the officially announced schemes and deliver the updated version of solar and wind tenders and auctions to our audience.
You can read more articles and news on our blog here.
During the first months of 2022 new auctions will take place in the USA, the Netherlands, India, followed by Algeria. You can download the full dataset here.
Recently has been announced that an energy auction will be held by BOEM on 23rd February 2022. The territory involvement will be of more than 480,000 acres in the New York Bight. This will be the first offshore wind energy auction under the Biden-Harris Administration. The auction will allow offshore developers to bid on six lease areas for 5.6 to 7 GW of offshore wind energy. As offshore wind technology continues to advance, these areas may have the potential to produce even more clean energy, has been claimed from Bureau Ocean Energy Management.
You can read more here.
Secretary Haaland, New Jersey Governor Phil Murphy and New York Governor Kathy Hochul pointed out the willingness to develop a robust offshore wind supply chain that will deliver benefits to residents of the surrounding region. This collaboration will establish the U.S. as a major player in the global offshore wind market.
The tender for the Hollandse Kust (west) Wind Farm Zone offshore the Netherlands will be opened on April 14. Hollandse Kust (west) Wind Farm Zone is located 53 kilometre off the west coast of the Netherlands. There are 2 wind farm sites designated within the area: HKW Wind Farm Site VI and VII. The total surface area of the Wind Farm Sites is approximately 176 km2. Hollandse Kust (west) Wind Farm Zone will host 1.4 GW of offshore wind farm.
More information can be seen here.
Rajasthan Rajya Vidyut Utpadan Nigam Limited has invited consultancy companies to develop and install a 2,000 MW solar park in Rajasthan. The project will be splitter in two phases, with the first consisting of 810 MW, and the second in 1.19 GW. In the first phase, 810 MW of solar capacity will be installed, while the remaining 1,190 MW will be developed in the second phase. The last date to submit bids will be 10th of February 2022. Technical bids will be opened on the next day. The pre-bid meeting will take place on January 13.
Moreover, Algeria finally launched a call for tenders for a 1GW solar project, the so-called "Solar 1,000 MW" Project, on December 23, 2021. The bidders shall submit a technical offer and a financial offer by April 30, 2022.
Follow us for more news about the solar and wind industries!
Green  Dealflow – is a matchmaker for professional investors and asset owners in the solar and wind industry. You can  create  a free account and search for assets to invest in, or ask us about off-market projects, find investors for your projects with discretion (off-market), or PPA Off-takers can look for business partners on a "no cure – no pay" basis. Further to this, Green  Dealflow  delivers news, blog posts and business intelligence, e.g. through a transaction database and monthly reports.