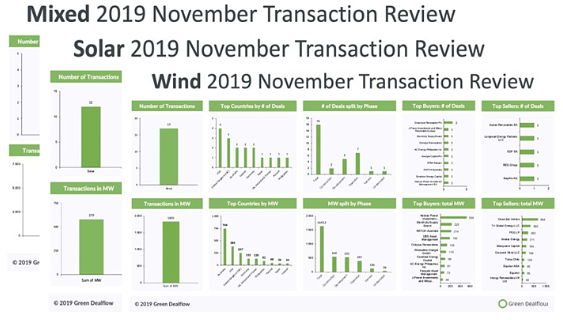 This week, Green Dealflow  published its  monthly transaction activity report of the solar and wind industries for November (access it here). The report is built from Green Dealflow's transaction database that tracks equity transactions of solar and wind projects around the globe. The month of November was slow regarding both the number of transactions and the total capacity transacted in solar and wind transactions. In November, we captured 31 deals (10 less than in October) overall mounting to 8.15GW (gigawatts).   
In the solar industry, the report records a total of 12 transactions amounting to more than 579MW in gross capacity transacted. As compared to a pretty busy October with 22 transactions amounting to approx. 6.8GW, November slowed it down regarding both the number of transactions, and MW transacted in solar energy deal flow. 
Different from the last months, Mexico was in the leading place regarding total MW transacted with a KEPCO's first investment in Mexican Solar: South Korea's largest electric utility and fund manager Sprott Korea acquired 49% interests in the Horus (119 MWp), Tastiota (125 MWp) and El Mayo (126 MWp) projects located in the states of Aguascalientes and Sonora.
The US followed Mexico taking the second place mainly due to Canadian Solar offloading 99,9% of the NC102 project in North Carolina.
In the wind industry, the report records a total of 17 transactions amounting to 1.83GW in gross capacity transacted. As compared to a more hectic October with 4.7GW in 21 transactions, November represents a slow-down in activity, especially with regards to transacted capacity.
This month, Australia (744MW) outpaced the US (384MW) regarding total MW transacted mainly due to Nebras Power acquiring a 49% equity shareholding in the 530MW Stockyard Hill Wind Farm in Victoria from owner Goldwind. The US was in second place with 4 wind transactions amounting to 384MW; among them UBS Asset Management acquiring a 49.9% stake in Phoenix Wind Repower, a portfolio of three wind farm in Texas.
The transacted capacity of mixed portfolio deals in November amounted to more than 5.73GW. Both transactions took place in the US. This month's biggest transaction was CPPIB acquiring the US developer Pattern Energy which owns 28 utility-scale renewable plants across Japan, US and Canada. Their portfolio represents an aggregate operating capacity of 4.4GW.
Green  Dealflow – is a matchmaker for professional investors and asset owners in the solar and wind industry. You can  create  a free account and search for assets to invest in or ask us about off-market projects, find investors for your projects with discretion (off-market), or PPA Off-takers can look for business partners on a "no cure – no  pay" basis. Further to this,  Green  Dealflow  delivers news, blog posts and business intelligence, e.g.  through a transaction database  and monthly reports.
Visit us at www.greendealflow.com.