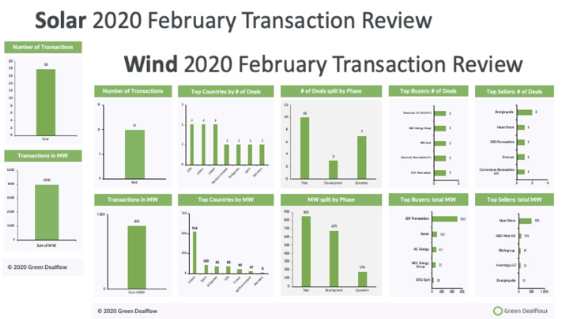 Green Dealflow has now made available its monthly transaction activity report for the solar and wind industries for February (access it here). The report is built on Green Dealflow's transaction database, which tracks equity transactions of solar and wind projects from around the globe. The number of transactions in February counts a total amount of 28 transactions recorded, which compared to the month of January (59), shows a reduction of more than 50% of the total processed transactions. The overall MW capacity, consequently, mirrored the number of transactions, dropping to 4.8GW, compared to 8.9GW in January. This downward trend can be observed in both of the industries at stake this month.
Even if the report records a lower total transaction rate with respect to the previous months, the solar industry maintains it leading role, outperforming the wind industry in February: the new report, in fact records a total of 18 transactions, reaching almost 4.0 GW in gross capacity transacted. The larger share is represented by the two acquisitions of Total S.A., purchasing around 1.0 GW in India and Spain, respectively. However, the USA still proves itself as the country with the highest number of deals on a monthly basis, being nonetheless, only 4 this month, a far lower number than the striking 14 deals closed in January.
The report further shows the total transactions recorded in the wind industry. The scenario comprehends a total of 10 deals reaching 850MW in gross capacity transacted. As the chart shows, February represents a backsliding trend for this industry compared to the previous months of December and January.
Nonetheless, it is worth mentioning the transactions completed by the USA, France and Ireland: among those, the most considerable one has been the acquisition of a 500MW offshore wind farm in Ireland by EDF Renewables, French major offshore wind player. It represents their first investment in the Republic of Ireland, which aims at growing renewables in order to provide 70% of electricity generation by 2030, an ambitious aim which caught the attention of a global leader this month.
Green  Dealflow – is a matchmaker for professional investors and asset owners in the solar and wind industry. You can  create  a free account and search for assets to invest in or ask us about off-market projects, find investors for your projects with discretion (off-market), or PPA Off-takers can look for business partners on a "no cure – no  pay" basis. Further to this,  Green  Dealflow  delivers news, blog posts and business intelligence, e.g.  through a transaction database  and monthly reports.
Visit us at www.greendealflow.com.