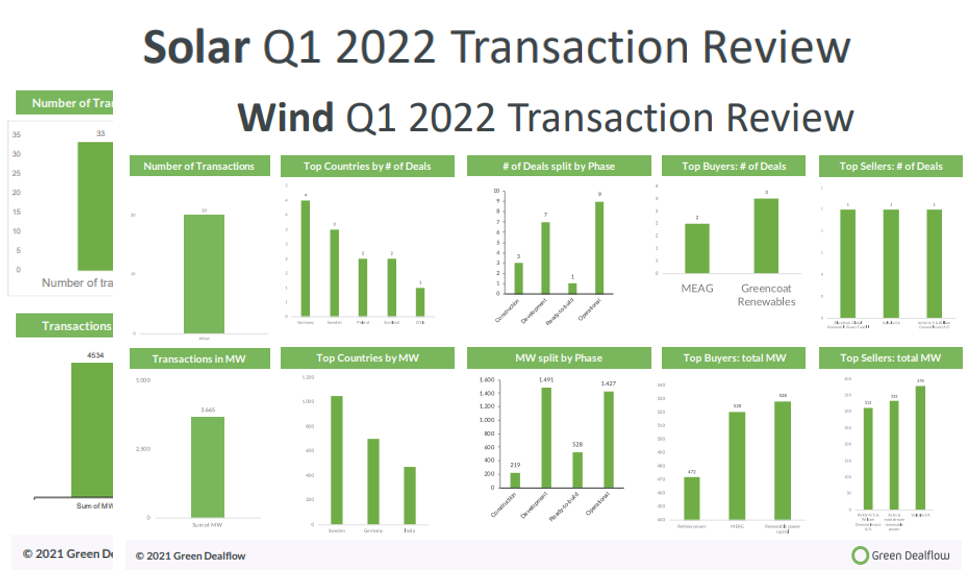 Green Dealflow has published the transaction review for the second quarter of 2022: the full dataset for solar and wind transactions closed in this period is available here.
The content is a key tool to get a clear picture of the market by the country´s records on renewable energy. To gain the possibility to jump into a clean project, the latest Tenders and Auctions announced worldwide can be downloaded here. The reports are built by our analysts and can be utilized as support to define a more aware investment strategy. 
The second quarter of 2022 has seen a total of 53 deals, with a total capacity of solar and wind transacted 8.199 MW.
During Q2, the solar industry´s performance reached a total of 33 deals (64 in Q1) with an overall capacity of 4534 MW (8683 MW in Q1), which shows a consistent contraction compared with the first quarter of 2022. Italy, with 6 transactions, jumps on the top of the podium for the number of deals, while Spain dominates in the number of Megawatts involved (877 MW), followed by Brazil and Germany.
The wind industry also saw a significant contraction compared to the first quarter, with 20 deals signed (38 in Q1), and a total capacity of 3.665 MW (10.220 in Q1). The protagonists of this period have been Sweden, Germany, and India.
Among the biggest deals, BluEarth, a Canadian IPP buys 1-GW wind and solar development project in Colorado from NorthRenew Energy LLC on about 150,000 acres of private land in Kiowa and Cheyenne Counties. The acquired scheme complements BluEarth's existing portfolio of over 1 GW of advanced development utility-scale wind projects in Canada and the US and over 3 GW of early-stage development projects.
Another deal saw SPIC Brasil, the local unit of China's State Power Investment Corporation (SPIC), acquiring a 70% stake in two solar projects with a combined capacity of 738 MWp from Canadian Solar Inc. Both companies will invest more than USD 417m to develop the projects. The Marangatu project will count 446 MW and will be implemented in Brasileira, while a 292 MW solar project will be built in Jaguaretama.
Looking at East, Singapore-based group Sembcorp Industries Ltd has acquired a stake in a portfolio of 658 MW of wind and solar farms in China. The projects consist of 240 MW of solar PV and 417.5 MW of wind farms.
Follow us for many more news and insights!
Green  Dealflow is an exclusive matchmaker for professional investors and project developers in the solar and wind industry. For developers, we provide the service of introducing the relevant investors or PPA off-takers for their projects within 2-4 weeks (off-market with discretion). Other services we provide to the developers are secure data room service, financial modelling service, running a structured process to sell projects etc. For investors, we provide the project based on their investment criteria and run an RPF process to source projects in any market as a mandate holder. Further to this, we deliver renewable news and trends, blog posts, and business intelligence, e.g. through transaction reviews etc., to our client base periodically. Remember to register your interest with us.