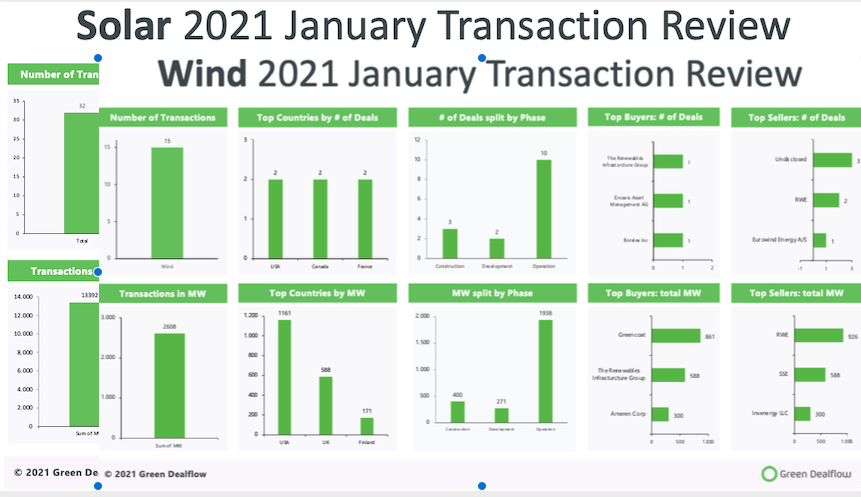 This is the time of the month when Green Dealflow publishes its transaction activity report in the solar and wind industries for the month of January, available here. The report is on our transaction database, which tracks equity transactions of solar and wind projects from around the world and it is possible for you to have an insight into where the market is going.
December 2020, the last month of a year that turned our lives upside down and changed our perspective. What we observed in the last month with respect to November is a stable trend in transactions, meaning that the renewable energy market has been suffering from the crisis, but the overall attitude of governments and investors, sees in renewables a key element for re-growth after such a complex year. The world has shifted its purpose, focusing more on sustainability, green economy and energy transition.
The number of transactions for the overall market counts for a total of 47 transactions, amounting to 16 GW, surprisingly a decrease in the number of deals closed, but with an astounding capacity transacted, more than the double of the last month of December. What we can say about these numbers? The deal signed might be less, but projects include an outstanding capacity of projects, leading us to believe that the market is going towards a peak to be reached very soon, and probably will last longer than we expect. In fact, we see everywhere more and more new regulations, incentives and positivity around the market.
The solar industry performance this month is aligned with our expectations, getting a total of 32 deals, with an overall capacity of 13GW, an outstanding increase with respect to the last month. Among the most active countries, the U.S. remains our top country, leading the way with 10 transactions. We then have the presence of Spain, 6, UK and Chile with both having 3 deals.
Among the most relevant transactions, we want to focus on the 10GW that
First Solar, a U.S.-based solar panels manufacturer, has signed with Leeward Renewable Energy to sell its utility-scale solar project platform of around 10 GW. The total capacity of the project is 773MW, which will be in construction for the next two years. This will expand the geographic pipeline of the company.
In the wind industry, the 2.6 GW transacted for 15 deals signed, suggests a stable trend in the activities of this month. In the top countries, we see the U.S., Canada and France having signed deals that provide them a place in the top 3, most of them being operational assets.
Among the several deals signed, RWE, one of the world's leading renewable energy companies, has signed an agreement with Greencoat to sell a 24% stake in four RWE onshore wind farms in Texas. This accounts for a total pro-rata installed capacity of 207 megawatts (MW). This is an overall good news, as many investors and asset owners are willing to collaborate with the u.S, hopefully under the same new green deals and perspective for the amelioration of the current policy status on renewables.
Green energy transition is a matter at the core of policy in every government, not only, but many more private companies see the benefits of investing in such long-term profitable and goal-oriented projects, aiming at making the world better. What do we expect for next year? Surely, we aim to see even more transactions and policy frameworks that facilitate green investments.
Stay updated and follow us for many more new insights!
Green Dealflow – is a matchmaker for professional investors and asset owners in the solar and wind industry. You can create a free account and search for assets to invest in, or ask us about off-market projects, find investors for your projects with discretion (off-market), or PPA Off-takers can look for business partners on a "no cure – no pay" basis. Further to this, Green Dealflow delivers news, blog posts and business intelligence, e.g. through a transaction database and monthly reports.