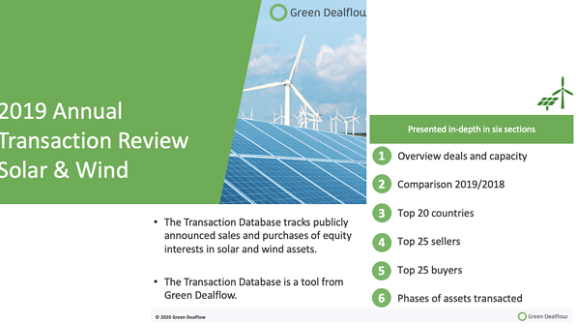 Today Green Dealflow publishes its annual transaction activity report of the solar and wind industries for 2019. The analysed data originates from Green Dealflow's Transaction Database – a tool that tracks publicly announced equity transactions in solar and wind projects around the globe. The report includes six in-depth sections: (1) Overview of global deals and gross capacity transacted, (2) Comparison 2019/18, (3) Top 20 countries by number of deals (4) Top 25 sellers by number of deals (5) Top 25 buyers by number of deals and (6) Lifecycle phases of assets transacted. The following article gives insights into each section while considering the results of 2018. This will allow the reader to recognise current developments and trends with in the solar and wind industries. You can access the report here.
Solar
In 2019, we recorded 221 transactions whereas the year before the number of deals transacted summed up to 197. This implies a small increase of solar transactions by 12% since 2018. However, gross capacity transacted significantly increased by 30% from 31,245 MW in 2018 to 40,359 MW in 2019. Comparing 2019's capacity to the 20,820 MW transacted in 2017, reveals the transacted capacity in solar almost doubled in the past two years. This development can be explained by the shift towards subsidy-free solar raising the amount of private investments. Another factor accelerating solar investment activity is the rise of corporate PPAs. The busiest month of 2019 with regards to deal number were April, October and December. When assessing gross capacity transacted March, July and October lead the ranking.
The US remain the clear frontrunner with 69 PV deals (same number in 2018) accounting for over 31% of total global solar transactions in 2019. Different from last year in which Australia and the UK followed the US in the ranking, Spain and Italy emerge as two new top 2 players with 25 transactions each. For comparison: In 2018 only 6 Spanish and 11 Italian solar transactions were carried out. The UK experienced an extensive deal decrease in the past two years from 37 (2017) to only 7 (2019) solar deals.
The top sellers of solar assets by number of deals recorded in 2019 are led by the American energy company SunPower with 8 transactions and followed by German construction engineering firm BayWa r.e. with 6 transactions. SunEdison's Indian daughter, however, dominates the ranking when it comes to transacted capacity with 5 transactions summing up to almost 2 GW.Regarding the number of projects purchased, Sonnedix Power Holdings Ltd ranks on top of the list followed by Greenbacker Renewable Energy Company LLC. The biggest capacity, however, was transacted by Ligtsource BP in 2 transactions of over 2 GW in total.
In terms of lifecycle phase, 2019's solar deal flow resembled last year and mostly concerned operational (102) and development-stage assets (55).
Wind
In 2019, we recorded only one more wind transaction than in 2018 summing up to 237. The gross capacity transacted increased by 6% from 55,386 MW in 2018 to 58,457 MW in 2019. The busiest months regarding the number of wind deals were August with 26 transactions and March, September, December with 25 transactions each.
In line with the solar industry, the US is in the leading place as they account for 18% of total global wind transactions. In comparison to 2018, the report reveals a deal decrease from 63 to 42 in the US and from 23 to 17 in the UK. In 2019 Germany and Sweden enter the top 3 with 28 (+11 since 2018) and 17 (+7 since 2018) wind transactions respectively.
The top sellers of wind assets by number of deals recorded in 2019 are led by German developer ABO Wind AG and followed by global renewable energy company Renewable Energy Systems Group. However, when looking into the capacity transacted, the American company Tradewind Energy is significantly dominating the ranking with 2 transactions summing up to almost 9GW.Regarding the number of assets purchased in 2019, JERA Co Inc, TRIG Ltd and CEE Group share the first place with 5 transactions each. Sweden's Vattenfall transacted the most MW with 2 transactions totalling over 1,8GW.
In terms of lifecycle phase, the wind industry follows the solar industry with mostly operational and development-stage assets. However, less assets in development-phase were transacted (-6 since 2018).
Star month of the year
March 2019 showed extraordinary activity in both solar and wind and deserves special consideration.
In the solar industry, 15 transactions amount to more than 13.4GW in gross capacity transacted. As for the wind industry, 24 transactions were recorded amounting to more than 17GW in gross capacity transacted. This massive deal flow in both solar and wind was mainly due to Enel Green Power North America acquiring Kansas-based renewable developer Tradewind Energy. Under the agreement, Enel purchased Tradewind's entire development platform comprising of 13 GW of wind, solar and storage projects located throughout the US.
With 39 transaction amounting to 30,557GW in solar and wind, we nominate March the month of the year!
About GreenDealflow
Green Dealflow facilitates business partnerships within the renewable energy sector and provides relevant information on global market activities. Our team and unique matching platform allow investors and asset owners to connect with the right people and do business – simple, efficient and transparent.
If you are interested in knowing more about how we can connect you with renewable energy investors or identify assets for sale, send us a mail on hi@greendealflow.com and let us schedule an introduction meeting!
Green  Dealflow – is a matchmaker for professional investors and asset owners in the solar and wind industry. You can  create  a free account and search for assets to invest in, or ask us about off-market projects, find investors for your projects with discretion (off-market), or PPA Off-takers can look for business partners on a "no cure – no  pay" basis. Further to this, Green  Dealflow  delivers news, blog posts and business intelligence, e.g.  through a transaction database and monthly reports.