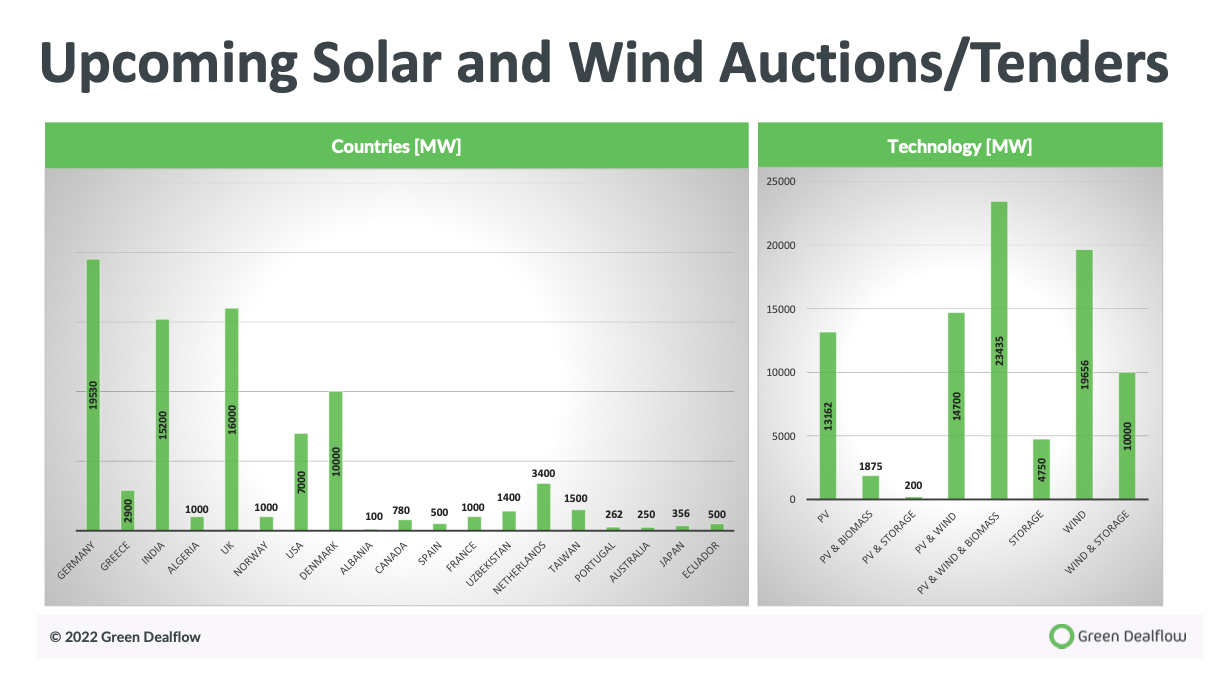 At Green Dealflow we provide knowledge regarding investments opportunities and business strategies to contribute to a more sustainable society. As our aim is to facilitate investments in the renewable energy industry, we collect the officially announced schemes and deliver the updated version of solar and wind tenders and auctions to our audience on a monthly basis. 
You can read more articles and news on our blog here.
During the first months of 2022 new auctions will take place in Germany, the UK, India, followed by Denmark. You can download the full dataset here.
The Philippines will hold a tender of 2 GW of renewable energy, with 1,260 MW of solar and 380 MW of wind projects. In addition, a total of 230 MW will be allocated to biomass projects in the three regions while 130 MW hydropower plants will be auctioned. The Department of Energy's (DOE) aims to install new capacity on the islands of Luzon (1,400 MW), Visayas (400 MW) and Mindanao (200 MW).
The Green Energy Auction Programme (GEAP), has been introduced to increase the share of renewable energies in the country from 35% renewables share by 2030 to 50% by 2040.
You can read more information about the tender in the Philippines here.
Peru will also hold auctions for 2,000 MW of capacity in the second quarter. Almost USD 2 billion are expected to be attracted from the process. The auction will be introduced according to the climate action plan of the country, aiming to increase the production from renewable power sources from 5.5% in 2021 to 20% by 2030.
The country has a combined capacity of 881.3 MW renewable plant, 528 MW of new plants have been planned, and 1,870 MW of projects being planned, the energy ministry said at the end of 2021.
Germany announced two tenders regarding 1.1 GW of solar and 274 MW of biomass capacity to be closed the 1st of March 2022. The tender is open to ground-mounted solar plants above 751 kW with a cap on the offered price of 0.0557 EUR/kWh. The contracts will be secured under the "pay-as-bid" model.
The Federal Network Agency will be in charge of allocating the projects in the states of Baden-Wuerttemberg, Bavaria, Hesse, Lower Saxony, Rhineland-Palatinate, Saarland, and Saxony ranging from 35 MW to 230 MW. The total German solar auctioned capacity will be divided in three tenders of over 751 kW size, for a total of 3.6 GW through 2022.
Follow us for more news about the solar and wind industries!
Green  Dealflow – is a matchmaker for professional investors and asset owners in the solar and wind industry. You can  create  a free account and search for assets to invest in, or ask us about off-market projects, find investors for your projects with discretion (off-market), or PPA Off-takers can look for business partners on a "no cure – no pay" basis. Further to this, Green  Dealflow  delivers news, blog posts and business intelligence, e.g. through a transaction database and monthly reports.