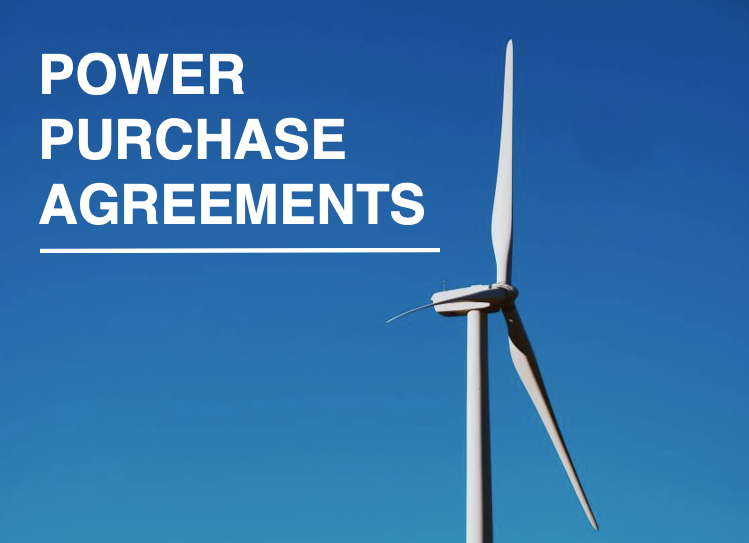 Companies should now develop strategies on how to switch to renewable energies through Power Purchase Agreements.
Key facts
If you want to operate sustainably, you should deal intensively with how the future energy supply can be secured.
To this end, companies should start in good time to set up an appropriate procurement strategy that takes into account the criteria of green, sustainable and cost-effective energy supply.
Power Purchase Agreements are an important instrument that offers companies several advantages.
What drives you? So not personally, but your company. Coal power, green power, nuclear energy? If you want to make your company sustainable, then the energy supply from renewable energies is a central part of your ESG strategy .
Renewable Energy Procurement Strategy
If you want to achieve your sustainability goals, you should also consider how your company's energy supply can be secured. The energy requirement in production or in the offices can be secured in the spirit of sustainability through a procurement strategy for renewable energy. Alternatively, a photovoltaic system or similar can be purchased and installed.
Know the need to be able to calculate better
No matter which way your company chooses: A consistent and sustainable strategy and a concept that ensures your sustainable supply are important. The first part of the strategy is to know your own current and medium-term energy requirements. If you know how much electricity is currently and will be needed in the future, it will be easier to calculate with the right amounts and to secure them on the cost side.
Set up an overall strategy for energy supply
However, knowledge of energy requirements is only the first step in the overall strategy. The key is to set up a sufficiently concrete target that makes it clear what else needs to be achieved beyond a secure energy supply. For example, companies should be clear about the sources from which the electricity comes, how much CO 2 is to be saved and who in the company is responsible for the procurement of energy or whether someone should be commissioned externally to do this. Businesses should ensure they are using the right tools for their unique situation. The graphic below shows which three of these can be.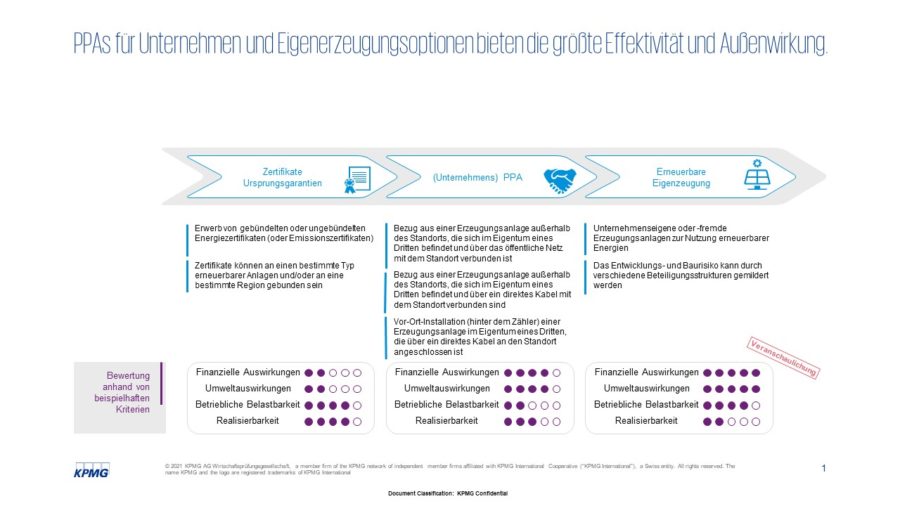 Power Purchase Agreements to hedge against price risks
Companies should now look at their energy consumption and make it clear which requirements have to be met in their industry and by the company itself. In addition, hedging against price risks plays a major role. This is where Power Purchase Agreements (PPA) come into play. They are a popular product to meet renewable energy needs. PPAs are a solution that can be implemented directly without significant capital investment and thus meet the criteria for timely implementation.
Contracts are concluded for long periods (up to 20 years)
Green electricity from wind farms is also becoming more and more interesting and attractive for German companies. Not only for ecological reasons, but also for financial reasons. PPAs are long-term direct purchase agreements between wind farm operators and major customers. The big advantage: Electricity producers and consumers can calculate with fixed prices. Plant operators can thus market their electricity reliably. Contracts are usually concluded for 20 years. When they sign the contract, customers know pretty well what they will have to pay in seven, 13 or 19 years. They are therefore less subject to the usual price fluctuations for electricity. The prices and purchase quantities can usually be negotiated individually. If you need less electricity than you consume, you can sell excess quantities on the market as green electricity.
Develop concepts for the energy supply now
With a PPA, companies that know what their electricity requirements are and do not want to cover them with their own systems have a suitable instrument for converting their power supply in a sustainable manner, and thus complying with the ESG criteria. Now is the ideal time to rethink and further develop concepts for your own energy supply. Companies should expect a lead time of up to one year. Currently, the demand for sustainable energy is much greater than the supply. So if you don't start the race for attractive PPAs in time, you may have to switch to electricity that also comes from wind farms, but is marketed without PPAs and can be correspondingly more expensive.
Read the original article here.
Green  Dealflow – is a matchmaker for professional investors and project developers in the solar and wind industry. You can  create  a free account and search for projects to invest in, or ask us about off-market ones, find investors for your projects with discretion (off-market), or PPA Off-takers can look for business partners on a "no cure – no pay" basis. Further to this, Green  Dealflow  delivers news, blog posts and business intelligence, e.g. through a transaction database and monthly reports.