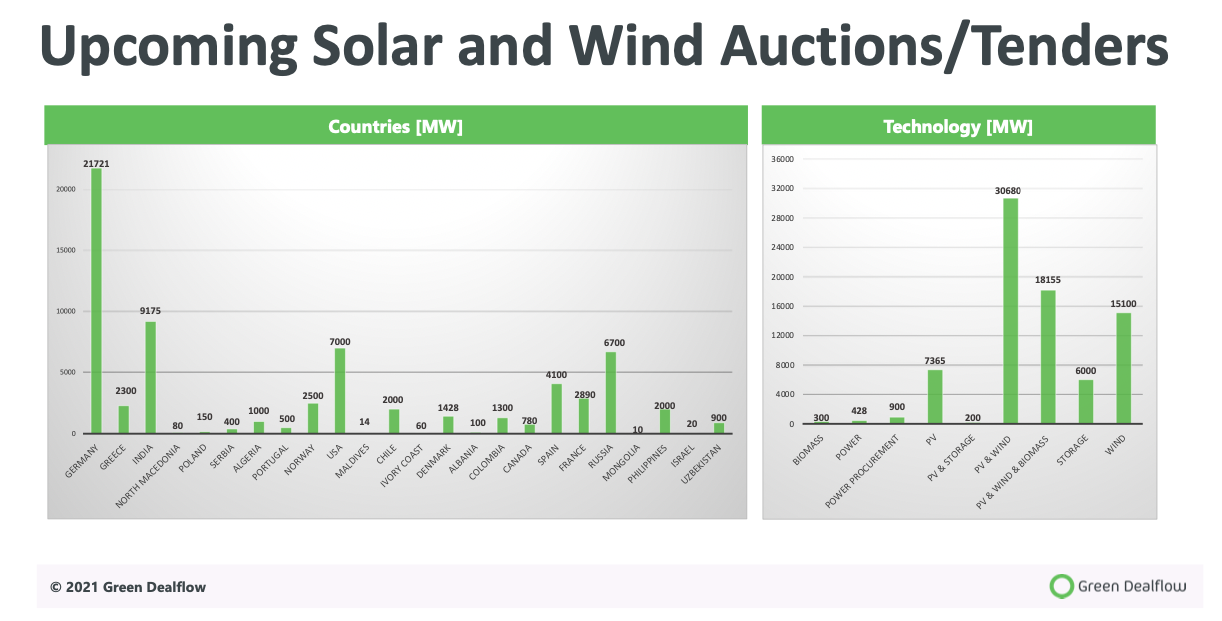 At Green Dealflow we aim to provide important information regarding investments opportunities and business strategies to contribute to a more sustainable society. Every month we collect the officially announced schemes and deliver the updated version of solar and wind tenders and auctions to our audience. You can read more on our blog here.
In October, new auctions will take place in Spain, France, followed by India.
The month of October will see a tender her by the Spanish government for 3.3 GW of renewable energy capacity to for projects with accelerated execution timelines. The portfolio will see 1,500 MW for onshore wind projects and 700 MW for solar photovoltaic (PV) ones. The remaining 600 MW will see an "ultra-fast" timeline for advanced-stage wind and solar PV projects with production starting within eight months from the award. This step will enhance the Spanish energy transition roadmap towards reaching 60 GW of renewable energy capacity by 2030. You can read the Spanish Integrated National Energy and Climate Plan here.
The Autorité Indépendante Chargée (CRE), energy regulator of France has announced a series of tenders for solar photovoltaic (PV), onshore wind and hydropower capacity for a total of 1,640 MW. October will see two deadlines for bidding: on the 22nd October for a 300-MW solar project on greenhouses (details here), and 26th October for a 140-MW of innovative PV technologies without storage, both in the Mainland region (details here).
Furthermore, the Maharashtra State Electricity Distribution Company (MSEDCL) issued in August two requests for selection (RfS) for 500 MW wind power from intrastate wind power projects (details here) and 300 MW wind power from grid-connected new inter-state and intrastate wind projects (details here). The last date for submission of bids are September 13, and September 20, 2021, and the ceiling tariff has been set at $0.036/kWh. The power supply from the projects will follow the new PPA from the date of the new PPA.
For the full dataset about wind and solar auctions/tenders click here.
Green  Dealflow – is a matchmaker for professional investors and asset owners in the solar and wind industry. You can  create  a free account and search for assets to invest in, or ask us about off-market projects, find investors for your projects with discretion (off-market), or PPA Off-takers can look for business partners on a "no cure – no pay" basis. Further to this, Green  Dealflow  delivers news, blog posts and business intelligence, e.g. through a transaction database and monthly reports.