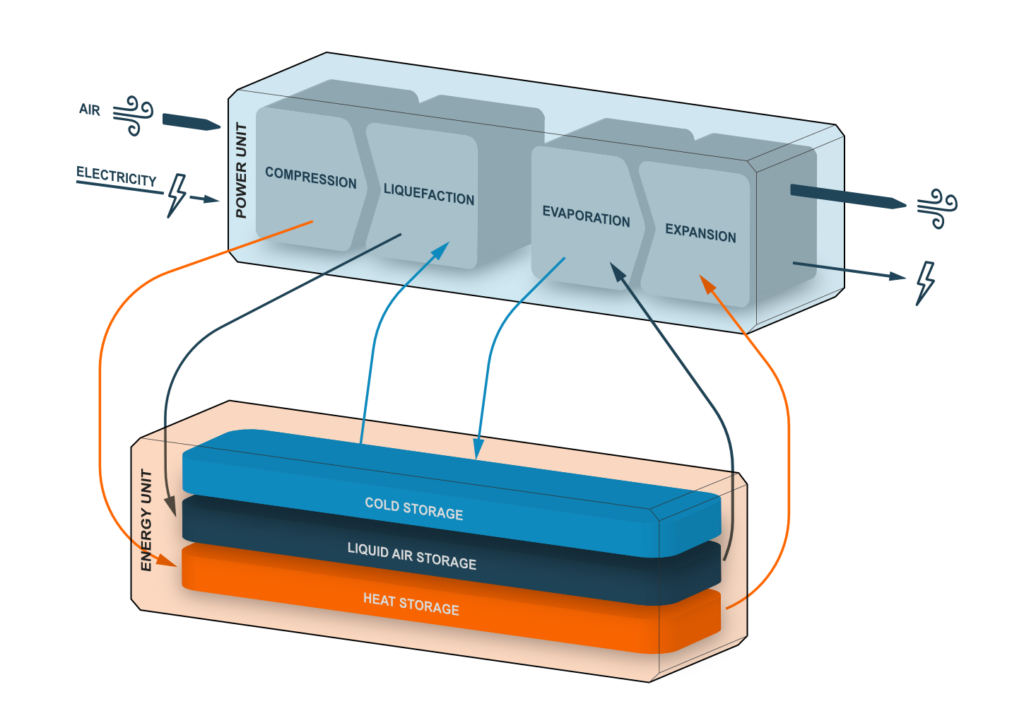 Here follow 5 questions Green Dealflow asked phelas, an innovative company focusing on a particular energy storage technology to foster the energy transition: liquid air energy storage.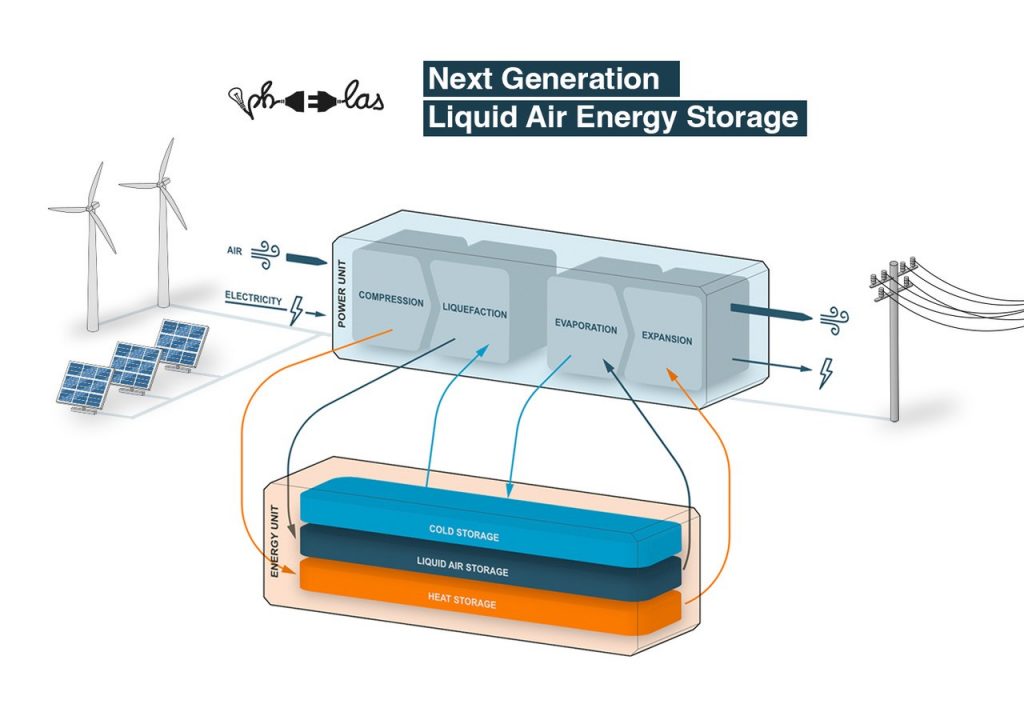 What problem does phelas solve?
Phelas was founded to turn a very simple vision into reality: We want 100% renewable power to be a no-brainer everywhere on this planet. Over the past 20 years, the world has made progress in lowering the cost of renewable generation, but still lacks a scalable, resource-efficient storage option to offset the uncontrollable volatility of renewables and thus fully decarbonize the energy sector. For this reason, the phelas team is developing Aurora, a standardized, mass-produced large-scale electrical storage system built on a new proprietary approach to air liquefaction. We use air and gravel as the main storage medium – both materials are universally available and, unlike lithium-ion, less hazardous and less resource-geographically dependent. The technology offers a decisive cost advantage for large amounts of energy, at the same time with no cyclic degradation and excellent environmental compatibility.
What is liquid air energy storage and how does it work?
The Aurora system is a unique new approach to Liquid Air Energy Storage. It leverages pressure, cryogenic temperatures, and the phase transition's inherent enthalpy to store energy. In a nutshell, our liquid air storage system uses energy during the charging process to compress air, cooling it down to extremely cold temperatures as low as -200°C and thus liquefying it. For discharging, the cryogenic liquid is heated – literally boiled – and vaporized in the process. The steep increase in volume and pressure is in turn used to generate electricity, similar to a steam engine. The principal process has been developed over 100 years ago and is still in industry use today. Phelas has developed it further to meet the needs of energy storage in the energy system of the future.
What is the power-to-power efficiency (roundtrip) of LAES?
This is a common question we get. And we counter it usually with: What should the storage system cost? We have optimized the Life-Cycle costs of the system while carefully maintaining a reasonable efficiency of the system. Our cost engineering solves the equation for levelized cost of storage (LCOS), which ultimately describes the cost per kWh of green energy for our customers. Thus, the roundtrip efficiency of around 50 to 60 % will achieve profitable application. Additionally, a paradigm shift in the energy sector will further reduce the relevance of the roundtrip efficiency of energy storage systems. Today, the cost of generation dominates the electricity sector. This puts a big price tag if your storage system is inefficient. In a renewable energy system, the cost of generation is significantly lower, in times of curtailment and market cannibalization even zero. Here, the most pressing challenge will be to store as much energy cost-effectively as possible. Capital expenditures will outweigh operational expenditures and optimized storage systems, such as phelas Aurora, will be increasingly important!
Are there any bottlenecks in terms of the technical and economical scalability of the technology?
We use predominantly proven and reliable off-the-shelve components in our system, which enables cost-effective supply chains and ensures high component reliability. In case of a defect, spare parts can be provided quickly globally. All components used in our system are non-toxic and pose no environmental or fire risk. This sets us apart from many electrochemical energy storage technologies such as Li-ion batteries or vanadium redox flow batteries. Our storage system is independent of critical resources (such as lithium, cobalt, or vanadium) that are often required for electrochemical storage solutions. Furthermore, a European supply chain can be realized and all components are suitable for recycling. Our entire product development focuses on delivering a product that can be ramped up on a global scale.
Do you think LAES is competitive compared to lithium batteries or CAES? How will this change over time?
Yes, we are more profitable in energy-centric applications than Lithium-Ion batteries and CAES. However, Lithium will always have a space in the energy storage landscape. It is a high-performing, fast-reacting technology that will help to stabilize the grids on a short-term level – so to speak, the perfect sprinter. LAES on the other side is a marathon runner, making sure, that we have renewable energy 24/7. Both systems will perfectly complement each other and therefore have their space in the energy sector. CAES might be competitive from an LCOS point of view, but it is a lot less energy-dense and therefore needs much more available land to achieve the same storage capacity.
Green  Dealflow is an exclusive matchmaker for professional investors and project developers in the solar and wind industry. For developers, we provide the service of introducing the relevant investors or PPA off-takers for their projects within 2-4 weeks (off-market with discretion). Other services we provide to the developers are secure data room service, financial modelling service, running a structured process to sell projects etc. For investors, we provide the project based on their investment criteria and run an RPF process to source projects in any market as a mandate holder. Further to this, we deliver renewable news and trends, blog posts, and business intelligence, e.g. through transaction reviews etc., to our client base periodically. Remember to register your interest with us.