INTRODUCTION:
New investments, record prices at auction, the ups and downs in the prices of fossil fuels, company acquisitions, a new legislative proposal along with the energy policy of a new president. 2016 was a year full of changes for renewable energy. Here is what happened.
1) Slowdown of RES investments. Spoiler: it is not actually bad news
The data isn't final, but according to BNEF in 2016, investment in renewable energy sources seemed to suffer a sharp and unexpected decrease, falling to about $287bn – but is this actually bad news?
Just like in any other market, renewables have become more competitive, and energy players are constantly competing to provide electricity at the lowest possible cost.
This has forced all of us to review our strategies to increase performance and to become more efficient. One of the catalysts allowing for these changes has indubitably been the incredible technological improvements we have seen over the past few years. As reported by BNEF, when it comes to wind, longer blades and higher towers have resulted in an incredible increase in the power produced, along with plummeting costs (50% since 2009). This increase in wind turbines efficiency has driven the levelised cost of electricity values down: these days we are able to triple the power produced by older wind farms, reducing the number of wind turbines to 1/8, but most importantly, increasing the energy produced by 5 times.
As for solar, the situation is even more astonishing; thanks to amazing technological and efficiency improvements, costs have dropped by 90% since 2009.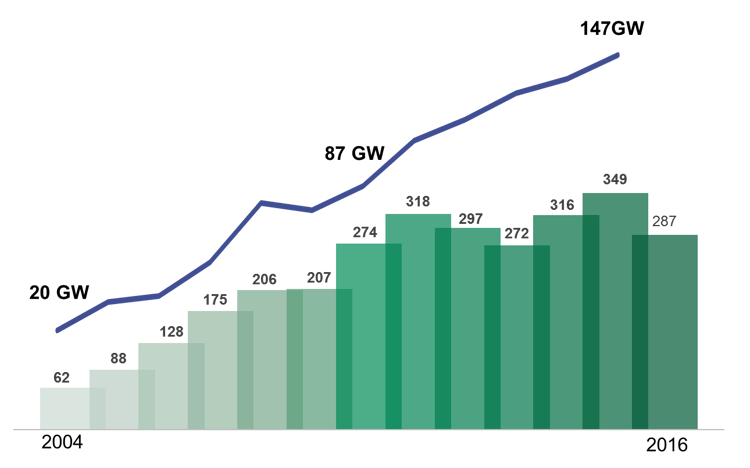 Investment in Renewable Technologies (2004-2016), Bn$. Source: BNEF
This does not mean that investments are not essential – they certainly are, and in fact they continue to grow – but their amount is no longer a comparable indicator one year versus the previous one. With the same amount of money, investors are today installing more capacity, and in doing so, proving that RES technologies are definitely entering their age of maturity.
Within this setting of ever-increasing competition, operators need to secure bigger and better volumes to keep margins and profits for the company – leveraging on effective procurement strategies to strike the best deals with suppliers. The result as far as we are concerned is that in EGP our additional capacity increased exponentially last year: from around 1 GW to 2 GW in 2016.
2) New records at auctions around the world
A year of record prices for auctions serves as an example of the reduction in the cost of RES, a feature that is making its way across the globe.
Under this point of view our achievements as Enel Green Power were remarkable as well: we won tenders all around the world, in Morocco for wind power, in Mexico and in Peru where we won capacity in 3 renewables technologies (PV, hydro and wind). Last but not least, we also set foot in Zambia where we were awarded 34 MW of PV.
We were not alone. When it comes to PV, just look at the price of $ 29.10 per MWh obtained in Chile during the summer or to the new record of 24,2 $/MWh set in September in Abu Dhabi. It is worth keeping in mind, however, that the price per MWh is not a valuable indicator by itself: the LCOE is a much more adequate number to consider, because it represents the price over the entire lifetime of the project.
Nevertheless, this concern does not change the fact that RES technologies are getting cheaper and cheaper, wiping out conventional generation in one country at a time.
3) Some fossil fuel prices recover, others don't. What are the consequences for RES?
The prices of fossil fuels fluctuated throughout 2016. In January, Brent crude reached its lowest point of $ 27.10, but during the year it then rose steadily.
As for gas, after a start to the year in which prices plunged, they then rose again, with a few exceptions.
The CO2 price followed a different and somewhat amusing path.The European Union Allowance (EUA) price, which was 6.76 euros per metric ton in January, plummeted during the year until mid-December when it started to rise again reaching the 6,5 € threshold at the very end of 2016. The arrival of 2017, however, brought with it another price drop.
What are the consequences for RES? The answer is: none.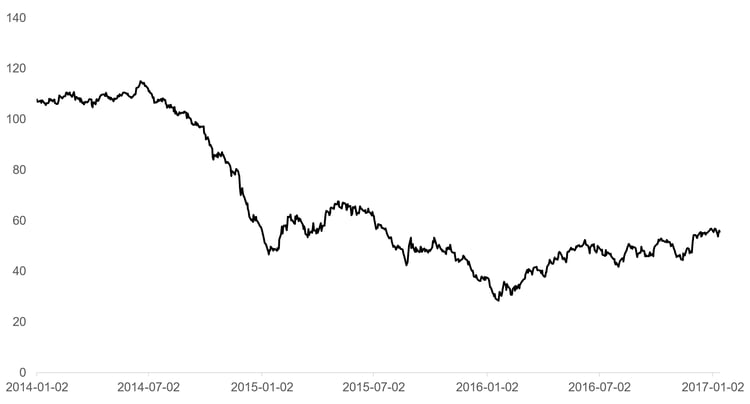 Brent price 2014-2016
The more fossil fuel prices experience volatility, the more countries look to renewables as their preferred generation source. While the former cannot be predicted, the costs of the latter instead are fixed at the beginning and are quite predictable over time. And it is not by chance that in the last 3 years – when fossil fuel prices experienced their biggest disruptions – renewables have well and truly taken off, marking some of the lowest prices of the period.
4) Key M&A operations demonstrate digitalisation is getting real in the energy world
Despite other industries – like media, retail and telecom – where digitalization has proven to be a disruptive force, able to completely change the face of these businesses, the energy sector has been branded as somewhat of a straggler, still lagging-behind when it comes to reaping the benefits of such a revolution. Signs are looming however that this situation is about to change, given the growing appetite shown by several utilities in 2016 in getting their teeth stuck into the digital world.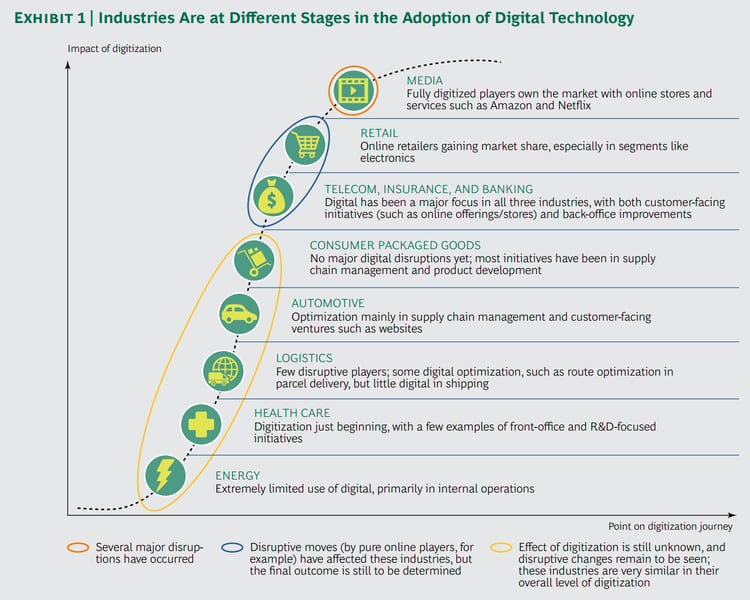 Source: How to jump start a digital transformation, The Boston Consulting Group
Currently, in mature markets, generation margins are indeed shrinking and this is pushing operators to explore new forms of business, looking at the optimization of existing assets rather than the purchase of new ones. To this end, the "software" component is distinguishing itself, allowing new opportunities in the field of aggregation, demand response, distributed storage and demand management to blossom. The most common and fastest way that traditional utilities are getting involved is through the acquisition of experienced providers that can do this job, and from which they can learn at the same time.
2016 shed light on several examples of such operations, with a difference: European utilities seemed much more active in this field in comparison with their colleagues from other parts of the world.
As Enel Green Power, we also wanted to play a role in this environment, and just few days ago we bought Demand Energy Network – a company based in the US that is specialized in intelligent software and energy storage systems. This is just one of the initiatives that we are working on, but it represents our commitment to "riding the wave" and our firm conviction that only by leveraging on the possibilities offered by the digital world, can utilities keep pace with the future.
5) The European Union comes up with a new RES directive
A few months ago, I wrote about the EU's role in the growth of RES. At that time, we were still waiting for a new legislative proposal that would widen the horizon of EU energy goals beyond 2020.
Today that proposal has arrived. On November 30th 2016, the EU Commission released its winter energy package entitled "Consumer centered clean energy transition".
At the time, I wrote about the need to recognize the importance of the long-term perspective. It's fair to say that there is an overall consensus that the European wholesale electricity market based on marginal cost pricing is obsolete, and as a result, electricity prices are no longer performing their main function of providing operators with insight for future investments.
It's clear to see that with this proposal, the EU is beginning to acknowledge the fundamental role of long term contracts, in providing an element of certainty of revenue in the long-term, which is essential for RES investments. The problem is that it does not set the conditions for their adoption, leaving the wholesale electricity market basically unchanged, aside for few touch-ups here and there.
Nevertheless, the new proposal retorts with some news regarding demand response, self-generation and storage.
Distributed generation is spoken of, in part relating to the retail market with initiatives for growth of more involved, and informed consumers; the activities range from greater clarity in bills, to the possibility of becoming a prosumer with the generation, storage and consumption of energy.
On the one hand, after reading the legislative proposal, it seems that it marks a step in the right direction, but I don't believe it gives enough of a boost to revamping EU leadership in the renewable energy sector. On the other hand, it is also true that the industry itself must play its role, and the regulator cannot do all of the work alone – so as Enel Green Power we will keep working, provoking or even anticipating the regulator on those issues that we deem important.
6) Trump elected President. What future for RES in the US?
2016 was also the year of the US presidential elections, and Donald Trump has become the 45th President of the United States of America.
Some of Trump's statements during the election campaign (such as the will to weaken the Clean Power Plan) have pushed many to worry about the impact he will have on combating climate change.
Donald Trump speaks for entrepreneurs: he is against environmental regulations that hinder work and that are economically harmful. He has promised to revamp fossil fuel production for a matter of economic profitability.
But it is precisely for this reason that he should reconsider his energy policy on RES. The death of coal is a fact in the US. Five years ago, coal accounted for nearly half of all the electricity consumed in the US but today it has been overtaken by gas as the main source, with renewables on their way to playing a bigger and bigger role. Major US companies are in a hurry to divest their coal assets and promptly reconvert their production towards renewables, simply because it is more convenient. In addition to convenience, the real cost of electricity has never been so low in the US. The conjunction of these two facts would make it very difficult for President Trump to reanimate a moribund industry, and it is frankly difficult to believe that he will really try to do it.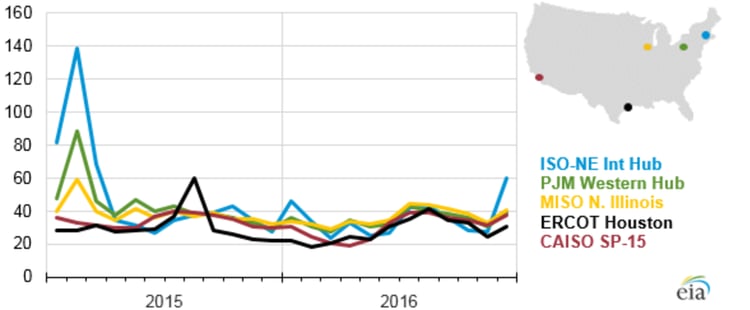 Monthly average wholesale electricity prices at major ISO trading hubs 2015-16, $/MWh. Source: US EIA
An investment in renewable energy is first and foremost an economic opportunity, particularly in the US, thanks to the Country's strong renewable resources, sound investment environment, and long-term visibility on the federal regulatory framework (PTCs and ICTs extensions). Incentives that, by the way, would be basically impossible to revoke given they have been approved by both parties, with a large majority.
When it comes to Enel Green Power specifically, we do not expect the above to change, even with a new President, and for this reason we are still confident we will double our installed capacity in the country in the next few years.
Welcome to 2017
A new year has begun, and new challenges await us.
2016 has restated that RES are the future, because, unlike conventional energy, they lead to the economic stability of markets, and increase the independence of the countries that adopt them.
If, despite everything, there are still those who believe that renewables are something utopic and naive, I'd say they should think again. Renewables are becoming mainstream and we have known it for quite some time. The novelty in 2017? I think we will start to see concretely, and on a wider scale, the effects of the combination between the renewable energy sector and other worlds: electric vehicles, storage, smart networks and digitalization will soon show their concrete dimension, and grow closer and closer to the RES world.
The winners of this revolution? The consumers. Attention is shifting from the generation to the use of electricity, and new, emerging business models will bring the customers countless benefits and opportunities. All the more important is the fact that utilities are responsible for the "last mile" of electricity delivery – meaning that they are the closest to the end users – theoretically making them the best positioned to put to good use such a competitive advantage.
I say 'theoretically', because only those who can adapt and change will emerge victorious; so, let's see what happens and who will seize the chances that 2017 will bring.