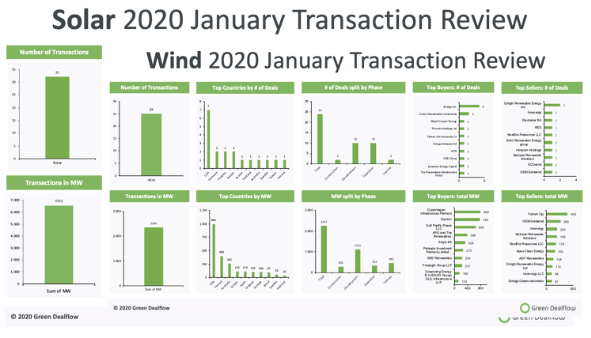 This week, Green Dealflow published its solar and wind transaction review report of the solar and wind industries for January (access it here). The report is built from Green Dealflow's transaction database that tracks equity transactions of solar and wind projects around the globe. The month of January was hectic. It has reached the amount of 59 deals, far above the monthly average of 38 registered transactions in 2019. Regarding the total capacity transacted, scales up to 8.9GW, amount not so high for the number of transactions, but still overpasses the last year´s average.
The solar industry is the main cause of the rush of transactions of this month. The report records a total of 35 transactions amounting to more than 6.5GW in gross capacity transacted, which means 11 more transactions and more than double the capacity registered the previous month.
Spain holds the largest amount of MW since last month, due to Galp strengthening its position in the Iberian Peninsula with the acquisition of a 2.9GW portfolio from the Spanish construction firm ACS. Nevertheless, this month Spain gets a faraway second place in the number of transactions behind an out-of-reach leader: The USA.
In the wind industry, the report records a total of 25 transactions amounting to 2.4GW in gross capacity transacted. As compared to a busy enough December, with 4,5GW in 25 transactions, it is worth to remark the lower average gross capacity of the transactions of this month
This month, the USA holds the leadership in both transactions and gross capacity as a result of several medium-size transactions, no mammoth sellouts this time. Following the USA in transacted capacity, Finland comes up with the acquisition of the majority stake in a five-project portfolio of 500-MW in Norway, Sweden and Finland by funds advised by Credit Suisse Energy Infrastructure Partners from Fortum Oy.
Green  Dealflow – is a matchmaker for professional investors and asset owners in the solar and wind industry. You can  create  a free account and search for assets to invest in or ask us about off-market projects, find investors for your projects with discretion (off-market), or PPA Off-takers can look for business partners on a "no cure – no  pay" basis. Further to this,  Green  Dealflow  delivers news, blog posts and business intelligence, e.g.  through a transaction database  and monthly reports.