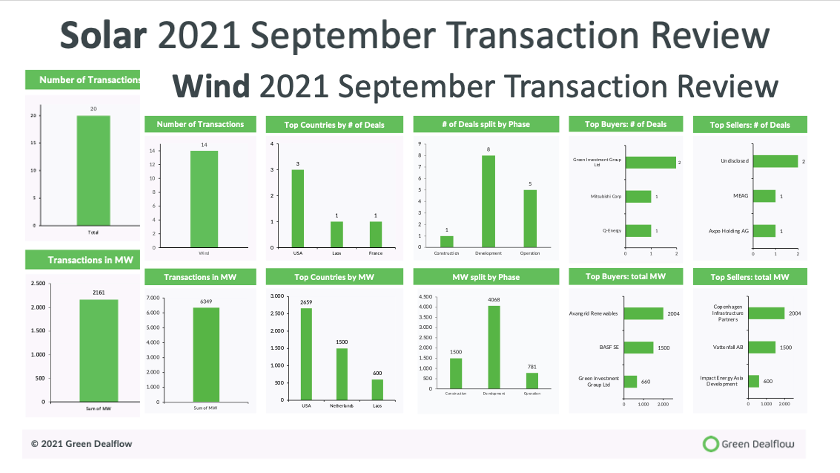 Green Dealflow has published the transaction review for the month of September: the full dataset for solar and wind transactions closed in the last month is available here.
The content is a key tool to get a clear picture of the market by the country´s records into renewable energy. To gain the possibility to jump into a clean project, the upcoming Tenders and Auctions announced worldwide can be downloaded here. The reports are built by our analysts and can be utilised as support to define an investment strategy.
The month of September has seen a total of 34 deals, with a total capacity of solar and wind transacted of 8510 MW, a significant increase of deals and capacity transacted compared to August.
This month, the solar industry counts a total of 20 deals closed, with an overall capacity of 2161 MW, more than halving the capacity transacted compared to August. Spain can still be found on the top of the podium, followed by the U.S. and Poland in the amount Megawatts involved.
Among the biggest deals, Glennmont Partners, fund manager in London, acquired a 473-MW portfolio of solar projects in Spain from Grupotec Servicios Avanzados SA. The value of the purchase remains undisclosed. The location of the solar pipeline acquired is in central and southern Spain, to be built using Tier-1 solar technology. Glennmont will be assisted from Grupotec during the construction and operation stages. The power purchase agreements (PPAs) definition is ongoing and contracts will be agreed during the construction stage.
The wind industry comes back from the August standstill with a significant spike in the capacity transacted globally, with 14 deals signed, and a total capacity of 6349 MW, +238% compared to last month. The protagonists for this months have been the U.S., the Netherlands, and Laos.
The most relevant deal in the wind industry saw Iberdrola took over Copenhagen Infrastructure Partners (CIP) in regards to the two co-developed wind projects off the U.S. coast, taking its offshore projects to 30% of its total pipeline. Avangrid will pay $167.5 million for 50% stake in an 804 MW project in Connecticut, and up to 1.2 GW project in Massachusetts. The sum of projects, counting additional 800 MW in Massachusetts could drain investment of around $12 billion, the company said. CIP will take over a separate project up to 2.5 GW in the same area.
Follow us for many more new insights!
Green  Dealflow – is a matchmaker for professional investors and asset owners in the solar and wind industry. You can  create  a free account and search for assets to invest in, or ask us about off-market projects, find investors for your projects with discretion (off-market), or PPA Off-takers can look for business partners on a "no cure – no pay" basis. Further to this, Green  Dealflow  delivers news, blog posts and business intelligence, e.g. through a transaction database and monthly reports.