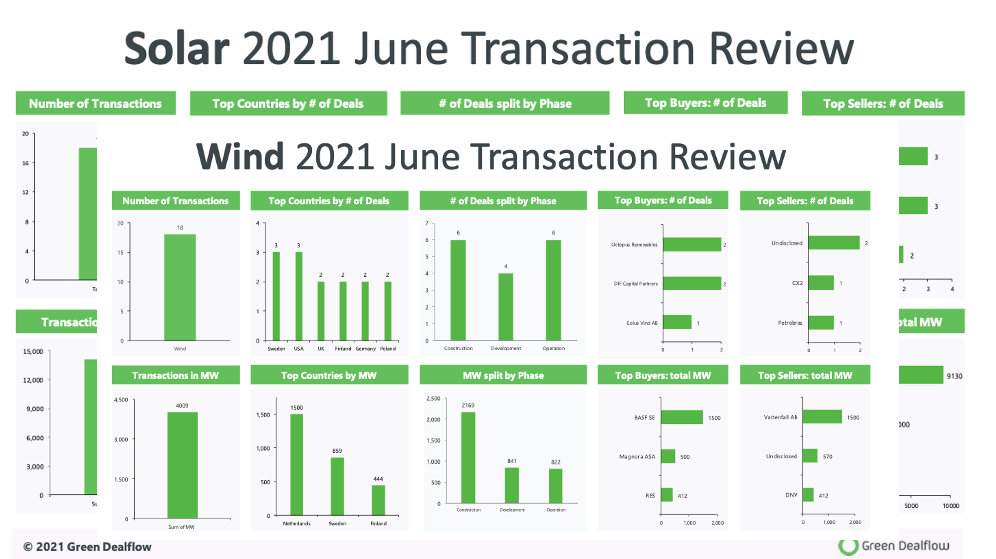 New transaction review published by Green Dealflow: the complete solar and wind transaction activity report for the month of June is available here. The report contains information from our transaction database and can provide a general overlook of the most active markets. The tracked worldwide Tenders & Auctions for the next months that have been announced publicly can be downloaded here. These features can give important insights into markets behavior and can help to define a strategy according to the upcoming regulatory frameworks of each country.
The number of transactions for the overall market counts for a total of 36 transactions, amounting to 19.1 GW: a huge increase in the amount transacted. Additionally, more and more countries are willing to accelerate the energy transition like UK, Ireland, Italy, and the Baltics. You can read about news in these markets, new technologies, and much more on our blog here.
Let´s dive into the solar and wind markets and their performance in June.
The solar industry´s performance this month reached a total of 18 deals, doubling the number of deals recorded last month, with an overall capacity of 14 GW. Regarding deals, in the podium we see the U.S., Japan, and Spain; the U.S. maintains their dominance also in the top 3 for capacity transacted, followed by Australia and Spain.
Among the most relevant acquisitions, we see BP as the top buyer, acquiring 9 GW (220M USD) of US solar projects from 7X Energy, boosting progress towards the company´s goals of increasing renewable generating capacity to 50 GW by 2030. The largest portfolios are in Texas' ERCOT network area, and in the Midwest's PJM network area. Another big deal saw Solar Choice buying the majority stake of the 2 GW Bulli Creek solar project in southern Queensland (Australia), and now investigating green hydrogen opportunities.
The wind industry in June was stable, accounting for 18 deals signed, while the total capacity reached 4 GW (+73%), with a robust increase of capacity transacted compared to the last month.
Sweden and the U.S. share the first position, followed by UK, Finland, Germany, and Poland. Among the most relevant deals signed BASF is set to pay 358.2M USD for a 49.5% stake in the 1.5-GW Hollandse Kust Zuid offshore wind farm project taking place in Dutch waters between The Hague and Zandvoort, with offshore construction due to start in July 2021.
The wind farm is expected to be up and running in 2023.
Stay updated and follow us for many more new insights!
Green  Dealflow – is a matchmaker for professional investors and asset owners in the solar and wind industry. You can  create  a free account and search for assets to invest in, or ask us about off-market projects, find investors for your projects with discretion (off-market), or PPA Off-takers can look for business partners on a "no cure – no pay" basis. Further to this, Green  Dealflow  delivers news, blog posts and business intelligence, e.g. through a transaction database and monthly reports.