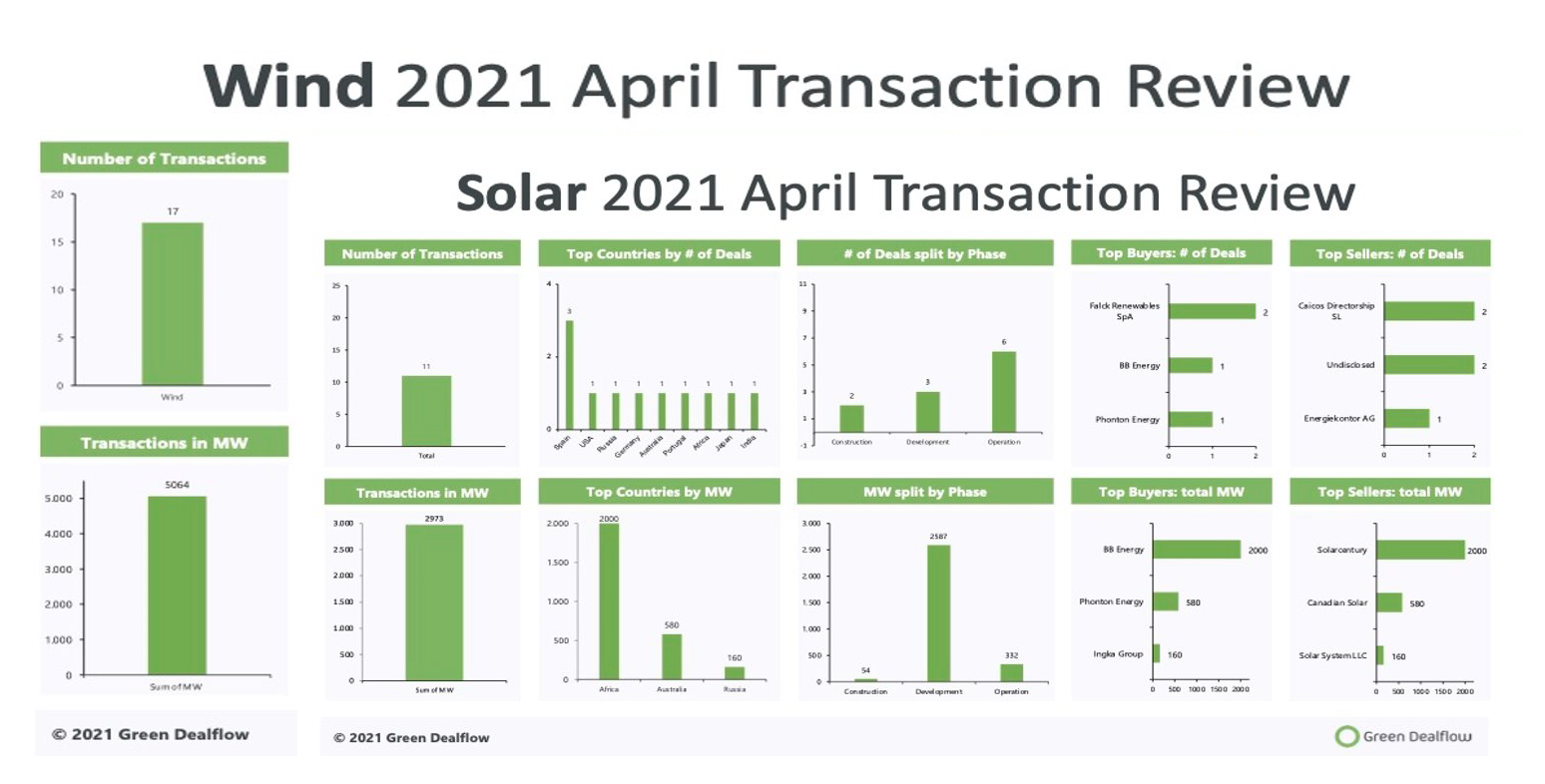 We bring you our monthly overview of renewable energy transactions in the solar and wind energy industries. Our analysts track equity transactions from around the world, giving you insights into country specific activity. The transaction activity report is available here. We also track upcoming tenders and auctions worldwide, providing an overview of countries and technologies that are relevant to keep an eye on for future investment opportunities. The overview of upcoming tenders and auctions is available here.
This month we recorded a total of 28 transactions, amounting to a total capacity transacted of 8GW. Although a couple of large deals increased the total transacted capacity compared to March, April has been the least active month of 2021 based on the number of deal transactions. However, there is optimism to be found when comparing to last year's 3.4GW, transacted across 21 deals. When looking at pre-COVID activity, the market still seems to be affected, as evidenced by the activity level in April 2019, where we saw 11.2GW transacted across 39 deals.
In the solar industry, the report records 11 transactions this month, amounting to 3GW in gross capacity transacted. The most active country has been Spain with 3 transactions, although the largest single deal has been the offloading of the newly acquired Statkraft company, Solarcentury's 2000MW portfolio across Africa, to UK based BB Energy Trading.
In the wind industry, the sum of transactions amounts to 5.1GW across 17 transactions. USA is the most active country with 5 transactions, followed by Sweden and Brazil, each with 2 wind transactions. The largest wind transaction this month was the acquisition of Brookfield Renewable Ireland by Danish energy company Ørsted, the Danish company's first investment in onshore renewables in Europe. The portfolio consists of 389MW in operation or under construction and 149MW in advanced development. On top of this Ørsted will take over their onshore development pipeline of more than 1GW in the UK and Ireland.
We experience the optimism in our interactions with developers, investors and other industry professionals. Follow us to continually stay up to date with market insights for the solar and wind industries.
Stay updated and follow us for many more new insights!
Green  Dealflow – is a matchmaker for professional investors and asset owners in the solar and wind industry. You can  create  a free account and search for assets to invest in, or ask us about off-market projects, find investors for your projects with discretion (off-market), or PPA Off-takers can look for business partners on a "no cure – no pay" basis. Further to this, Green  Dealflow  delivers news, blog posts and business intelligence, e.g. through a transaction database and monthly reports.