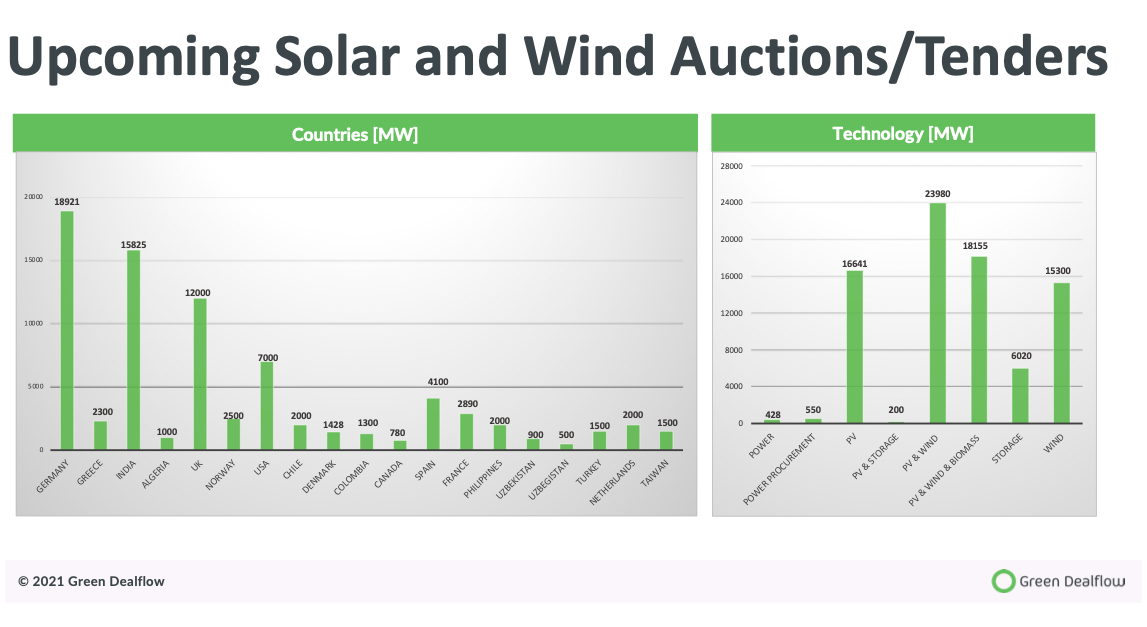 At Green Dealflow we aim to provide important information regarding investments opportunities and business strategies to contribute to a more sustainable society. Every month we collect the officially announced schemes and deliver the updated version of solar and wind tenders and auctions to our audience. You can read more on our blog here.
In November, new auctions will take place in Denmark, Germany, followed by France. You can download the full dataset here.
November will see on the 8th of the month the closure date for bidding in regards to the 1-GW Thor offshore wind project to be built at least 22 km off the coast at Thorsminde on Jutland's west coast. Thor Offshore Wind Farm is the first of the three offshore wind farms decided as part of the Energy Agreement from 2018. Thor is planned to be connected to the grid no later than by the end of 2027, with a licence for electricity production given for 30 years with the possibility of an extension for 5 years. The tender also covers the construction of grid connection infrastructure. The Danish Energy Agency has carried out a negotiation phase, which has provided for adjustments in the tender conditions with the aim to reduce the bid price for the offshore wind farm. The name of the winner is due to be announced in before the end of 2021.
You can read more information about the tender material here.
The Autorité Indépendante Chargée (CRE), energy regulator of France has launched a series of tenders for solar and wind projects as part of a new procurement scheme in its multi-year energy plan. In particular, it is actually possible to bid for 700 MW of onshore wind projects located in Mainland Metropolitan France which can be expanded to 925 MW until November 26th. France's multi-year energy programme (PPE) is the French roadmap for renewable energy production, that has set 32% of the final energy consumption by 2030.
JSC National Grid of Uzbekistan has launched a tender for a total capacity of 500 MW of photovoltaic that will accept bids up untile the 29th of November. The site of the projects will be in the Namangan, Khorezm and Bukhara regions, with the possibility of deployment of some storage capacity. Have a look at the tender procedure here.
In addition, November the 1st has been set as submission deadline for 616-MW of solar system in Germany. You will find more detailed information here.
For the full dataset about wind and solar auctions/tenders click here. 
Green  Dealflow – is a matchmaker for professional investors and asset owners in the solar and wind industry. You can  create  a free account and search for assets to invest in, or ask us about off-market projects, find investors for your projects with discretion (off-market), or PPA Off-takers can look for business partners on a "no cure – no pay" basis. Further to this, Green  Dealflow  delivers news, blog posts and business intelligence, e.g. through a transaction database and monthly reports.