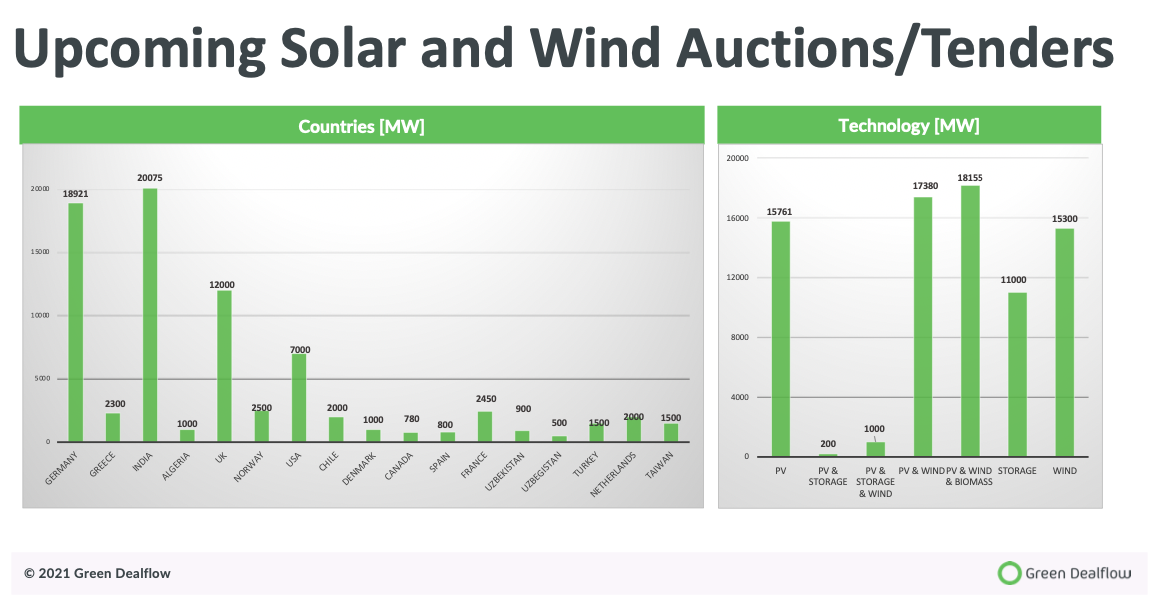 Green Dealflow we aim to provide important information regarding investments opportunities and business strategies to contribute to a more sustainable society. Every month we collect the officially announced schemes and deliver the updated version of solar and wind tenders and auctions to our audience. You can read more on our blog here.
In December, new auctions will take place in India, France, followed by Poland. You can download the full dataset here.
Poland will hold a series of renewable energy auctions at the end of 2021: on the 6th and 9th of December two auctions will take place for PV or wind projects below 1MW and above 1MW of nominal power. Additionally, during this round of auctions participants will be allowed to submit bids for hybrid projects on the 2nd and 3rd of December allowing bidders to submit solar and wind projects coupled with storage.
For a guide to the renewable energy auction system in Poland you can have a look here.
We wish to remember that the Autorité Indépendante Chargée (CRE), energy regulator of France has launched a series of tenders for solar and wind projects as part of a new procurement scheme in its multi-year energy plan. In this framework, there will be two rounds of auctions on December 23 for a target size of 700MW of ground-mounted solar and 500MW of wind, solar or hybrid plants of total capacity.
France's multi-year energy programme (PPE) is the French roadmap for renewable energy production, that has set 32% of the final energy consumption by 2030.
Ireland's has finally approved the terms of the second Renewable Electricity Support Scheme 2 (RESS 2) auction, starting on the 23rd of November 23. The RESS 2 auction aims to support the achievement of 80% renewable electricity by 2030 as set out under the National Development Plan and the policies and measures in the Climate Action Plan 2021. More information about the Irish scheme to be found here.
For the full dataset about wind and solar auctions/tenders click here.
Green  Dealflow – is a matchmaker for professional investors and asset owners in the solar and wind industry. You can  create  a free account and search for assets to invest in, or ask us about off-market projects, find investors for your projects with discretion (off-market), or PPA Off-takers can look for business partners on a "no cure – no pay" basis. Further to this, Green  Dealflow  delivers news, blog posts and business intelligence, e.g. through a transaction database and monthly reports.