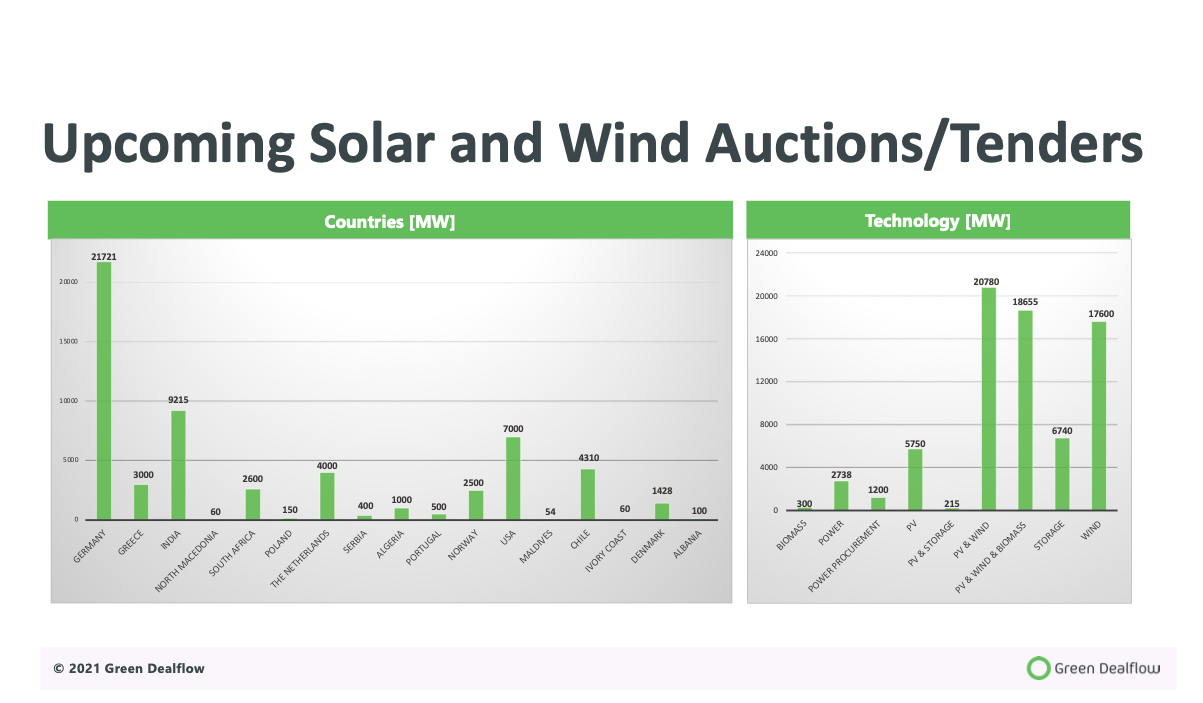 At Green Dealflow we aim to provide important information regarding investments opportunities and business strategies to contribute to a more sustainable society. Every month we collect the officially announced schemes and deliver the updated version of solar and wind tenders and auctions to our audience. You can read more on our blog here.
In September, new auctions will take place in Germany, India, followed by Portugal.
Germany will be on the podium of tenders in September with 958 MW of offshore in the North and Baltic Sea, and additional 1.500 MW of onshore wind. September the 1st has been set as bid submission deadline for the onshore projects, and 6.00 ct/kWh as maximum value. You can read more about Germany here.
India will come next, with the Solar Energy Corporation of India (SECI) announcing a tender for developing 1,200 MW of solar power projects (Tranche X) in Karnataka. September the 3rd will be the last date for submissions and bids will be opened on September 8. The pre-bid meeting has already started on July 26. The PPAs will be valid for 25 years from the scheduled commissioning date of the projects. You can read more about this project here.
Moreover, in Canada, the draft Regulation respecting a 480-megawatt block of renewable energy and the draft Regulation respecting a 300-megawatt block of wind energy, as well as the Décret 906-2021, published on July 14th on the official Québec Gazette, create an obligation for 780 MW tender of renewable energy with at least 300 MW of wind projects. Hydro-Québec, responsible for ensuring the electrical power supply for the Québec market, will have to issue these calls for tender to meet Hydro-Québec's long-term energy and power needs and decide if splitting them in two (300 MW and 480 MW) not later than December 31. Producers can expect the upcoming calls for tenders to require a commercial operation date in 2026.
Furthermore, as a reminder, the bid closure time for the 125 MW of solar photovoltaic power projects at two locations in Uttar Pradesh (India), issued by REC Power Distribution Company (RECPDCL) is set for August 12. You can read more here.
For the full dataset about wind and solar auctions/tenders click here.
Green  Dealflow – is a matchmaker for professional investors and asset owners in the solar and wind industry. You can  create  a free account and search for assets to invest in, or ask us about off-market projects, find investors for your projects with discretion (off-market), or PPA Off-takers can look for business partners on a "no cure – no pay" basis. Further to this, Green  Dealflow  delivers news, blog posts and business intelligence, e.g. through a transaction database and monthly reports.