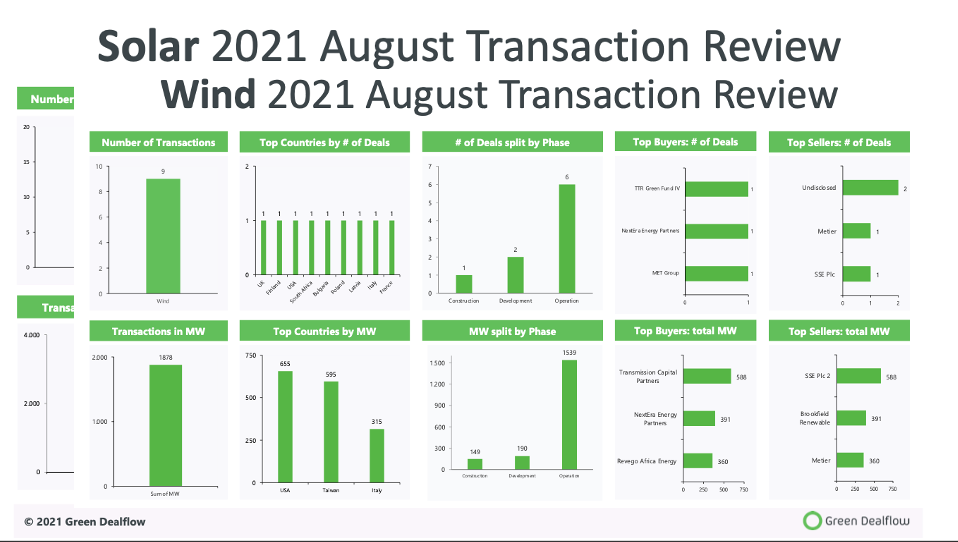 Green Dealflow has published the transaction review for the month of August: the full dataset for solar and wind transactions closed in the last month is available here.
The content is a key tool to get a clear picture of the market by the country´s records into renewable energy. To gain the possibility to jump into a clean project, the upcoming Tenders and Auctions announced worldwide can be downloaded here. The reports are built by our analysts and can be utilised as support to define an investment strategy.
The month of August has seen a total of 24 deals, with a total capacity of solar and wind transacted of 5517 MW, a significant reduction of deals and capacity transacted compared to the last months.
This month, the solar industry´s performance reached a total of 15 deals with an overall capacity of 3639 MW, almost halving the capacity transacted compared to the month of July. The U.S. continues to be on the top of the podium for the number of deals, but it is taken over from Spain in the amount Megawatts involved.
Among the biggest deals, Opdenergy Holding SA, Spanish independent power producer (IPP) has reached an agreement with Bruc Energy regarding a solar portfolio of 1,044 MW in Spain, corresponding to 20 solar projects that will continue to be developed by the Spanish developer until the ready-to-build stage, expected in 2022. Juan Béjar, president of Bruc Energy said: "With a portfolio of assets totalling more than 5,000MW, Bruc Energy has positioned itself as one of the most relevant and dynamic players in the green energy sector in the Iberian Peninsula."
Also the wind industry saw a standstill during the month of August, with 9 deals signed, and a total capacity of 1878 MW, -26% compared to June and almost halving the amount compared to July. The protagonists for this months have been the U.S., Taiwan, and Italy.
The most relevant deal in the wind industry saw SSE Renewables business of UK utility selling the 588-MW Beatrice wind farm in Scotland to Transmission Capital Partners, a consortium consisting of International Public Partnerships, Amber Infrastructure Group, and Transmission Investment, as part of a competitive Offshore Transmission Tender process in line with UK energy regulator. Beatrice Offshore Wind Farm Limited, a joint venture owned by SSE Renewables, Red Rock Power Limited, The Renewables Infrastructure Group and Equitix will provide logistics and reactive services support to Transmission Capital Partners under an Operations and Maintenance (O&M) agreement.
Follow us for many more new insights!
Green  Dealflow – is a matchmaker for professional investors and asset owners in the solar and wind industry. You can  create  a free account and search for assets to invest in, or ask us about off-market projects, find investors for your projects with discretion (off-market), or PPA Off-takers can look for business partners on a "no cure – no pay" basis. Further to this, Green  Dealflow  delivers news, blog posts and business intelligence, e.g. through a transaction database and monthly reports.