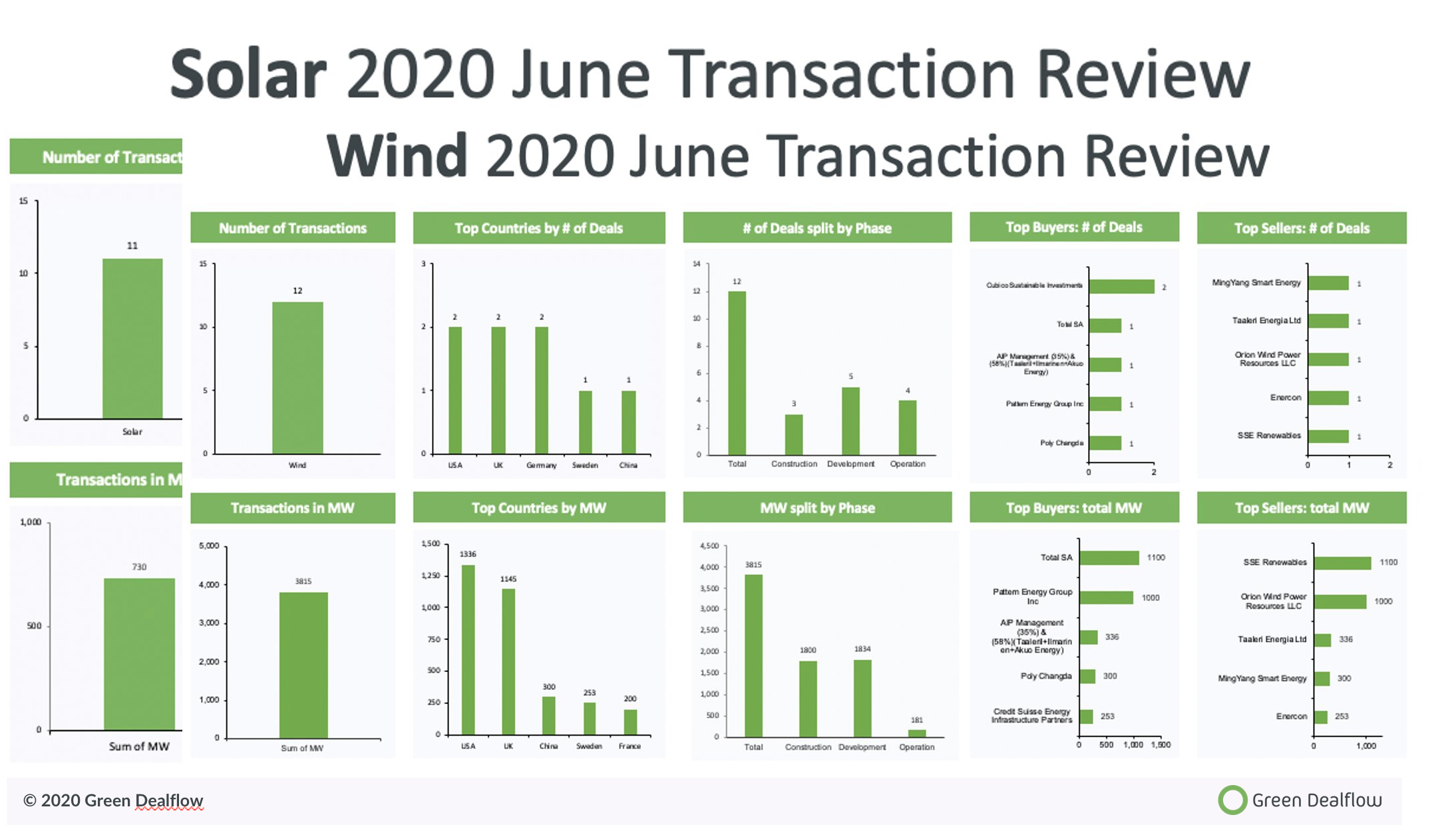 Green Dealflow has published its transaction activity report in the solar and wind industries  for  June, which you can access here. The Green Dealflow Report is built on our transaction database, which tracks publicly announced equity transactions of solar and wind projects from around the world.
The total capacity transacted this month reached 4.5 GW, across a total of 23 publicly announced transactions in the wind and solar industry. The total capacity transacted was slightly less compared to May.
The solar industry´s performance this month is a bit below than last month. There were 11 transactions, with an overall capacity of 730 MW. This month, Poland and Mexico were the leading countries, closely followed by the USA, Spain and China. It is worth mentioning that the most significant solar transaction in Poland took place this month. Aberdeen Standard Investments will acquire a 100% stake in a turnkey solar portfolio of 122 MW developed by the Polish developer R.Power.
In the wind industry, the 3.8 GW transacted overcome the solar industry ones, with 12 deals signed (10 onshore + 2 offshore): The US maintained its position at the top of the market together with the UK and followed by China, Sweden and France. The most recognizable is the deal closed by the French giant Total and SSE Renewables, in which Total will acquire a 51% stake in the Seagreen 1 offshore wind farm project in the UK. It will start producing renewable electricity from the end of 2022, and once completed, it will be Scotland's largest offshore wind farm.
"This move represents a major change of scale for Total's offshore wind activity in line with our strategy of profitable growth in renewables and low carbon electricity," said Patrick Pouyanné, Chairman & CEO of Total.
Green  Dealflow – is a matchmaker for professional investors and asset owners in the solar and wind industry. You can  create  a free account and search for assets to invest in, or ask us about off-market projects, find investors for your projects with discretion (off-market), or PPA Off-takers can look for business partners on a "no cure – no  pay" basis. Further to this, Green  Dealflow  delivers news, blog posts and business intelligence, e.g.  through a transaction database and monthly reports.